The report in October shows that DRAM prices decrease by 10%, and the prices of 4GB and 8GB module also fall. The bull market of DRAM chips, which lasts two years, is turning into a bear market. Three DRAM chip makers, Samsung, SK Hynix and Micron, hold 95% global market shares. Although all of them don't want DRAM prices to get lower and try to block it by reducing production, once the prices start to fall it is hopeless to prevent it from falling. However, they hold different attitude towards market. Micron is regarded as the strongest DRAM supplier in November with lowest prices. Samsung tries hard to maintain its own shares. And SK Hynix's chips are most expensive.
According to the report of Q3 global DRAM market released by DRAMeXchange of TrendForce, the revenue growth of whole DRAM industry in the third quarter of 2018 increased by 9% compared with last quarter, which set a new record. However, as the price-rise of third quarter is nearly flat, revenue growth is mainly driven by the continuous rising bit shipments. Take an outlook of the fourth quarter, the contract prices of DRAM in October is falling, and in addition to DRAM prices rising comes to an end, it will lead to a steep price falls for the oversupply and high levels of inventory. It is predicted that before fully absorbed by suppliers, channels and purchasers, the contract prices of the first quarter of 2019 is facing a greater pressure of price reduction.
According to the report released by Chandler Converse, an analyser of Cleveland Research Co, the Q4 DRAM prices was perdicted to decreased by between 8% and 10%, and it would keep a falling trend in Q1 of next year.
According to his report, Micron is the strongest chip maker in November. During the most time of 2018 Micron has a lowest chip price. Samsung reacts with price matching in order to maintain its market shares. And SK Hynix has the highest DRAM peices.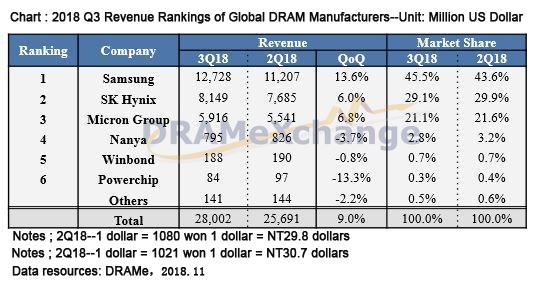 All of Micron, Samsung and SK Hynix take different strategies towards DRAM market, which is related with their market position. Samsung is the first DRAM company taking 45.5% market shares, SK Hynix is second with 29.1% shares and Micron shares 21.1% market in the third quarter, who needs to grab the market compared with the first two.