Back in the first quarter of 2018, some companies such as Samsung, Toshiba, Micron and so on have a 40% profit margin on NAND chips, but prices began to fall sharply after the first quarter. It's estimated that prices in NAND Flash fell by at least 50% in the first half of last year. According to analysts, prices will fall by 30% annually in the future until the next round of price increases.

The NAND market in 2018 has changed fromprosperity to depression, a trend that will continue this year. However, the variables in Flash memory market in 2019 are not just price reduction because new technologies, new products and the addition of Chinese manufacturers will bring great changes to this market.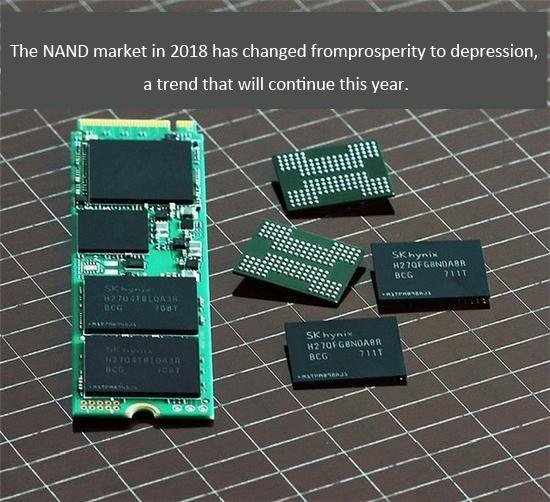 Insufficient demand inevitably leads to price reduction.
A key reason for the sharp price reduction in 2018 was the mass production of 64-tier 3D NAND Flash. The transition from 32/48-tier to 64-tier reduced the cost of NAND Flash memory to 8 cents per GB compared with the 21 cents of previous 2D NAND Flash per GB, making it possible for NAND to reduce cost.
Under the pressure of oversupply, NAND Flash market has been adjusted several times in the past few years. The market began to decline during 2015 and 2016 while in 2017 the market began to rise again. However, the situation did not continue as expected. When large factories competed to strengthen investment scale and supported new capacity of 3D NAND Flash, market demand grew slowly, which also accelerated the price reduction of NAND Flash in 2018 in the world.
Affected by the bottleneck of technology and yield, the improvement rate of 3D NAND yield in 2018 is not as smooth as expected. As a result, secondary products are sold in circulation, further interfering with market prices. As for terminal applications, the client SSD market is the first to bear the brunt.
The giants repay their debts for the good they once had.
The hard days are not over yet. The price of NAND Flash is expected to drop another 50% this year. NAND and SSD manufacturers will pay off the debt for the previous two years.
Recently, Western Digital's financial reports have shown that the price reduction of NAND Flash has a great impact on it. Its revenue and profit of this quarter declined year-on-year. Although NAND Flash capacity shipments increased by 28%, the price of NAND Flash fell by 16%, resulting in a sharp decline of gross interest rate. The HDD business is more serious since the shipment is 34.1 million, declined 8.1 million year-on-year.
The price reduction of NAND Flash will also affect the earnings of Micron, SK Hynix, Samsung and Toshiba. However, Samsung, Micron and SK Hynix have the support of DRAM memory with high price, so their earnings will not be as bad as WD. In order to reduce the impact, WD and Micron are reducing NAND Flash capacity investment to reduce NAND supply and alleviate market expectations of price reduction.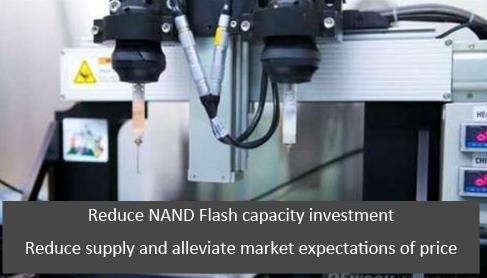 64-tier and 96-tier 3D NAND Flash have different destinies.
This year will be the first year of the explosion of the 96-tier 3D NAND Flash. After 64-tier stack, major manufacturers began to mass-produce 96-tier stack 3D Flash in the second half of 2018. Samsung announced the fifth generation of NAND Flash (one of 3D NAND Flash) in early July. V NAND Flash took the lead in supporting Toggle DDR 4.0 interface, with transmission speed reaching 1.4 Gbps, 40% higher than 64-tier V NAND Flash. Its working voltage is reduced from 1.8V to 1.2V, and the writing speed is the fastest at present with only 500us, which is 30% higher than the previous generation.
In addition, the fifth generation of NAND Flash has also been optimized in manufacturing process. The manufacturing efficiency has increased by 30% and advanced technology reduces the height of each unit by 20%, which reduces the interference among units and improves the efficiency of data processing.
Micron, Intel, Toshiba, WD and SK Hynix have also announced their own 96-tier 3D NAND Flash scheme, among which, WD and Toshiba use a new generation of BiCS4 technology in 96-tier 3D Flash. Core capacity of their QLC is up to 1.33Tb, 33% higher than the industry standard. Toshiba has developed 16-core single chip flash. Only a flash has a capacity of 2.66 TB.
Emergence of domestic manufacturers changes global markets.
When the global semiconductor market in 2018 reached $150 billion, of which NAND Flash exceeded $57 billion, China consumed 32% of the global capacity, which means that China has become the major global market. In order to get rid of the dependence of long-term external procurement, the independent development of domestic memory chips has become an urgent task.
There is another variable in the NAND market in 2019. Although it is still a rudimentary, it is most likely to reshape the market structure of memory chips. That is, YMTC in China will produce large-scale 3D NAND Flash in 2019, competing with Samsung, Toshiba, Micron and other international NAND manufacturers.
32-tier 3D NAND Flash of YMTC has been successfully released and entered small-scale production. However, the 32-tier stacking process is not competitive. Recently, YMTC's 64-tier NAND samples with Xtacking architecture have been sent to relevant supply chains for testing.
If the schedule is in line with expectations, production will be expected as soon as the third quarter of 2019. At that time, there will be an opportunity to turn a loss into a profit. In addition, YMTC also plans to skip from 96-tier 3D NAND to 128-tier 3D NAND in 2020. With the upgrading of production technology and the planned production capacity of 300,000 to 450,000 pieces, there will be an opportunity for YMTC to grab about 10% of global market share in the future.
At the same time, UNIS promotes construction progress in other cities, for example Nanjing and Chengdu factories successively enters the construction stage by the end of 2018. A total of $26.87 billion will be invested in three major production bases to produce 3D NAND chips. On the other hand, UNIS desires to cooperate with Intel to develop NAND Flash technology at full speed.
It is only a matter of time for domestic manufacturers to enter the NAND Flash market. Although it is still in the test stage in 2019, it is still necessary to solve the problem of yield after increasing output gradually. In the process of technological transformation, whether the products with unqualified yield will affect the market order will be worth observing.
Industrial variables are huge in this year.
It's reported that NAND Flash price will fall 10% to 15% in the first quarter of 2019. In response, in the latest report analysts at foreign Citibank maintained neutral frequencies on Micron's shares, but lowered Micron's revenue and earnings expectations for 2019 for the reason the overall memory market in 2019 will face a major price reduction.
Due to overcapacity and increasing inventory, NAND Flash and DRAM are expected to have a price reduction in 2019. NAND Flash prices will fall 45%, and DRAM prices will fall 30%. Moreover, such a price cut will not see the bottom line until the second quarter of 2019, suggesting that the price reduction in 2019 will last at least two quarters.
On the supply side, the yield of 64-tier 3D NAND Flash has reached a mature stage. Coupled with the input of new production capacity, even if the production time of 96-tier 3D NAND Flash is delayed, it still cannot withstand the increasing output of 64-tier 3D NAND Flash. Unlike memory products can be used in cache, flash is the main storage device for various electronic products. The price reduction is often accompanied by an increase of carrying capacity.
Demand-side growth is not keeping pace with output growth, so the whole industry will continue to oversupply until the end of 2019.