Sudden trade war between Japan and South Korea led to a sharp rise in memory prices, which trouble ordinary consumers. What kind of scheme is hidden?
In an age of ever-changing gadgets, there are always geeks who want to go their own way and DIY products. In general, they are happy to use its ingenuity to transform and assemble machinery and electronic products. In the PC market, DIY means assemble computer.
The main reason for choosing the assembling computers is that it has flexible configuration, high capability-price ratio and can meet the personalized needs of consumers. Furthermore, the price of computers is half or less of that of the same configuration of brand computers. For example, if you pursuit high-quality picture, good graphics card is worthy of considering. Buy a power CPU if you love to play games. There are various case and keyboard to select. Enthusiasts can come up with a variety of different configurations to suit their needs.
While some people say that computer assembly has become a niche hobby today. The reason is that all-in-one computers and laptops are becoming more and more popular, as well as the number of users who use bulky non-portable desktops are declining. Secondly, in the process of computer branding, brand computers do better and stronger in function and appearance. With the same configuration, the price difference between the branded computers and assembled computers is getting smaller and smaller. Instead of spending a lot of time and energy on assembled computers, it is better to buy a branded desktop computer.
Indeed, as the brand desktop mature gradually, convenient and fast laptops and smart phones are enough to meet most users' work and entertainment needs. The assembled computers are becoming a personal choice for a small number of DIY enthusiasts. But in recent years, the price of memory has been a nightmare for DIY enthusiasts.
01
The "wavy line" of Memory price
It is universally acknowledged the tech world has a famous Moore's law. That is the number and performance of components that can be accommodated on an integrated circuit doubles every 18-24 months or so while the price remains the same. In other words, digital hardware with same performance will be much cheaper every 18 to 24 months. However, this is not the case for memory chip, of which the prices always fluctuate affected by the market.
Memory, formally known as storage, is one of the three pillars of the semiconductor industry. For a long time, what the DIY enthusiasts concern most have been the CPU and GPU, which determines the peak performance of the assembly computers. And how to give full play to these performances, read ability of memory chip will be one of the important factors. DRAM products account for about 53% of the total memory chip market, NAND Flash products account for about 42%, and Nor Flash only accounts for about 3%.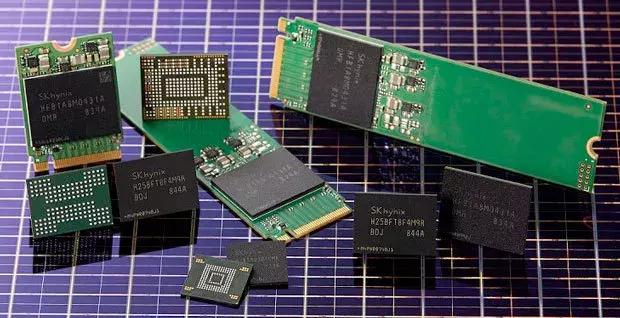 Retrospect the market quotation of storages over the past few years, it is easy to find that the price of storages has gone up and down like a wavy line: cheap around in 2012, rose sharply in 2013, fell in 2014, reached a low point in 2015, continued to rise in mid-2016, reached a peak in 2017 and 2018 and fell slightly in 2019. By April, the price of "memory" had fallen by more than 30% since the end of last year and DRAM prices are at their lowest level in more than three years.
There are several reasons for the falling price of memory at the beginning of the year, including the increase of memory output and the decrease of demand for big data center.
According to the rule of memory price fluctuation "wave line", whenever the memory starts to fall in price, there are always an unexpected event took place in the memory factory. In 2013, fire casualty happened at the SK hynix semiconductor factory in Wuxi. Smoke from the blaze could be seen dozens of kilometers away. The fire caused DRAM prices to rise, leading to a surge in memory prices in 2013.
In 2016, memory prices are again depressed. Samsung, Micron, SK hynix, Toshiba and other manufacturers began to upgrade technology at the same time, improving memory to 20nm process, flash memory from 2D flash to 3D flash, and constantly improving the stack layer. In the upgrade process, the capacity dropped significantly, which lead to consecutive increasing price of memory to some extent for three years.
02
Accidents and nightmares come again
Memory prices fell sharply in the first half of this year. As usual, memory manufacturers began to operate again. On June 15, a power outage occurring at a factory in Yokkaichi Japan affected the production operations of NAND flash in Western Digital and Toshiba. The event is expected to reduce the supply of NAND flash wafers by 6 million terabytes.
Meanwhile, Samsung is mulling cuts. However, to everyone's surprise, out of surprise an unanticipated event took place before Samsung officially cut production. But to everyone's surprise, an unexpected thing happened before Samsung officially cut production. In early July, due to political disputes, the Japanese government has begun to control the export to South Korea of three key materials used to produce semiconductors, smartphones and panels.
Japanese government sanctions have huge impact on Samsung NAND flash memory production, which lead NAND Flash projection reduced by more than 20%. Memory industry insiders analyst that Samsung account for 30% in the world so its reduction output equals to reduction of 6% to 8% global supply. Combined with an unexpected power outage at Toshiba's NAND plant last month, which affected 3% supply, this would cut global NAND output by nearly 10% from July. Thus, the price of memory increases.
Since the beginning of July, the spot price of DDR4 8GB, DDR4 4GB and DDR3 4GB and DDR3 2GB particles has been rising.Memory industry insiders said the trade war between Japan and South Korea cause a strong NAND rush, driving prices to rebound further. If trade talks between Japan and South Korea remain deadlocked, DRAM contract prices will also rebound next quarter, NAND and DRAM memory "double rising". DIY enthusiasts' nightmare came again.
03
Who will benefit?
Increasing memory prices damages the interest of vast number of consumers including DIY installed people. But who will be the winner? According to Securities Times, Samsung has been the first to raise prices for factory customers, including DDR3, EMMC and NAND Flash. In particular, the price of Samsung's 8GB and 16GB EMMC increase in a big extend recently, both around 10%. In the short term, the sanctions imposed by Japan on South Korea in turn benefited Samsung most.
Of course, Samsung's status quo is temporary. Samsung's stock of raw materials is said to last only a month or two. Lee Jae-yong, vice chairman of Samsung electronics, went to Japan to seek raw materials after Japan imposed export restrictions on South Korea. South Korea reported: "This visit to Japan did not resolve any material supply issues. The relevant departments of Samsung electronics have indeed got some supplies through brainstorming and asking around, which can solve the current emergency, but it is not enough to completely rest assured.
Currently, 75% the world's DRAM capacity and 45% NAND capacity come from Samsung and SK hynix. A lot of people think that if there is a problem with the memory supply of Korean manufacturers, people will shift their orders to non-korean manufacturers, leading to a big increase in sales and revenue of other manufacturers. Now, apart from Samsung and SK hynix, the biggest memory manufacturer is Micron. Once the trade war between Japan and South Korea drags on for too long, Micron will be the biggest beneficiary.
In addition, DRAM and NAND production lines of Chinese companies are under construction. It is reported that Hefei Changxin 19nm process 8Gb LPDDR4 memory will be put into production by the end of this year. DRAM plant of Fujian jinhua will be completed and put into production in 2020. Wuhan Yangtze storage has also completed the construction of the Wuhan plant, and produce 32-storey NAND flash. If Samsung and SK hynix are caught in the trade war between Japan and South Korea, there will be a huge capacity gap in the market, which will be opportunities for Chinese manufacturers.
Whether it is a scheme, the price of memory products has the tendency of rising. Although suffering in the heart, DIY players also have to accept it. After all, the memory industry is a seller's market. Any breeze in the market can become the reason for memory manufacturers to raise prices. The average consumers have no voice at all.
Related Articles:
Toshiba's Power Outage and Japan's Sanctions to South Korea
Memory Prices Start to Skyrocket Affected by the Japan-South Korea ...