On 18th September 21, EEFOCUS reported that 2018 global channel SSD shipments is about 81million increasing approximately 50% compared with 2017, according to the 2018 latest shipment ranking survey in channel market of DRAMeXchange global SSD module factory's own brand. The top three brand are respectively Kingston, ADATA and Tigo.
NAND Flash factory, including Samsung, Toshiba, WDC, Micron, SK Hynix and Intel, accounts for 35% of SSD overall channel market share in 2018, while the shipments of SSD module factory takes over approximately 65%.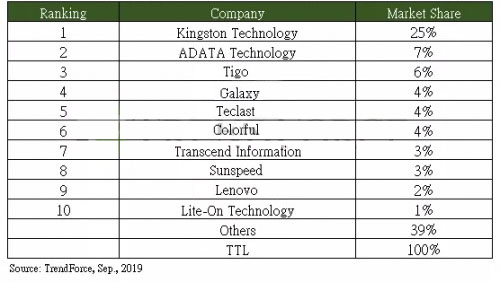 The ranking report of global SSD module factories in 2018 is based on the number of shipments of their own brands of each module factory in channel market and deducts the part of NAND Flash original factory to clearly show the market share of the world top ten module factories.
DRAMeXchange pointed out that the top ten module factories accounts for 60% in market and Kingston always ranks in the first with 25% market sharing. Kingston, with high brand awareness and its market share of portable discs and memory cards always occupying the top three in the world, can also be good at taking its own advantages in the SSD market to continue to be a leader.
Apart from Kinston, the market sharing of other 9 major manufacturers is approximate. ADATA market sharing was high in 2018 SSD channel market for its excellent brand value, flexible retail price and actively operation in the European, American, Japanese, Korean and other markets.
China is the major selling market of Tigo SSD. In order to seize the fast-growing SSD market of China in recent years, Tigo not only has a complete line covering high, medium and low-end product, but also actively establish its brand image. Thanks to the NAND Flash price dropping and sufficient supply, Tigo ranked third in global SSD market in 2018.
Taiwanese factories attach importance to make stable profits and mainland Chinese factories actively catch up.
From this ranking, the fourth to the tenth factories are all mainland Chinese and Taiwanese factories. In 2018, OEM market with stable profit is the main selling market of LITEON and Transcend. Transcend specializes in the industry-controlled SSD markets with good profit and high order stability, while LITEON transfers resources to the Enterprise SSD market in order to make full use of company competitive advantage. Affected by sales strategy, the market share of the two companies in the channel market in 2018 is lower than that in 2017.
Chinese factories including Galaxy, Teclast, Colorful, Sunspeed and Lenovo focused on the channel market in mainland China in 2018. In addition to taking advantage of its own competitive market and high grasp of channels in mainland China, they also outsourced SSD assembly to ODM manufacturers to maintain good cooperation and reduce production costs.
In addition, NAND Flash original factory assists Chinese factories in price and supply for their growth potential and highly flexible management.
DRAMeXchange stated that the performance of active mainland factories is obviously better than conservative Taiwanese factories in the advantageous environment of NAND Flash price falling and sufficient supply. In 2019, the Chinese mainland brand manufacturers are mostly expected to continue to occupy the top ten, but the second and third-tier brand manufacturers will gradually be difficult to survive due to the industry transformation.
It should be noted that China mainland famous module factory Longsys and BIWIN are not in the top ten ranking this time. The reason is that Longsys takes the production mode of producing for Chinese brand manufacturers in channel SSD market. Therefore, although its volume is enough to enter the top ten, it is not included because it does not meet the definition of this ranking.
As for BIWIN, it won't get HP channel brand authorization until 2018, but it is still not enough to rank in the top ten. However, BIWIN's performance in 2019 is expected.
DRAMeXchange analyzed that mainland China brand module factory with great potential in channel market become the important places for SSD controller manufacturers.
It is understood that that mainland factories for great potential in access market also become the important places for SSD controller manufacturers. In the second half of this year, the requirements of the mainland module factories for the controller chips include 92/96L TLC 256Gb/512Gb Flash can completely supported, 96L QLC 1Tb Flash which has the opportunity to be mass produced in the fourth quarter of 2019, the product line with SATA DRAMless, as well as mid-and low-level PCIe G3 DRAMless solutions. DRAMeXchange expects that this year to next year will be a period of intense competition for low-and mid-level PCIe G3 solutions for the SSD controller industry.
Related Articles:
Price reduction of NAND Flash leads to depressive market of ...
DRAM-Less SSD are more cost-competitive by introducing HMB.