SSD prices keep falling in 2019: hard disk bears the brunt again
As SSD prices being falling in 2018, the average price is nearly $0.15 per GB. Prices of some SSD with 500G capacity even fall below $60. Dropping prices also drive players demand of SSD. Global SSD shipments are up to 205 million with a 31% growth compared with 2017, of which consumer SSD shipments reach 176 million. Price declining stimulates market demand increasing, so share of hard disk will further reduce.
Popularization of 96-layer and QLC technology will be an important moment for SSD price reduction, which also has impact on choosing hard disk for desktop and laptop partly.
Although manufacturers try to maintain a maximum corporate profit by reducing investment budget one after another, impact caused by technique innovation will not be changed in a short time. SSD prices will continue a downturn in 2019. There will be three trends in the future.
Technology popularization
Although 3D NAND Flash technology are being promoted now, 64-layer TLC has been stable product. However, key of SSD price reduction is popularization of 96-layer and QLC technology as well as capacity release. The higher stacking layer is, the larger capacity produced in flash particle production line per unit time will be, what's more, further NAND Flash costs will be.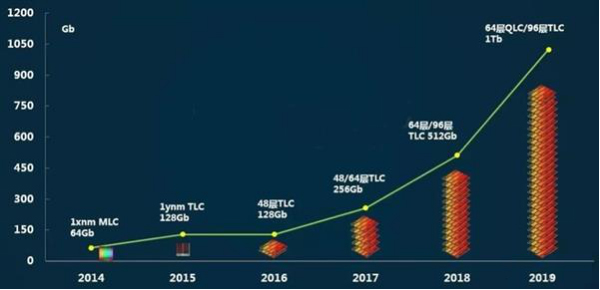 Original 3D technology developing trend
96-layer stacking technology is in a rising stage at present, of which Toshiba, Western Digital and Samsung are in advance, while Intel and Micron following closely.
Samsung has launched 970 EVO Plus SSD based on 96-layer stacking technology earlier. Toshiba BG4 SSD, Kingston A2000 SSD and other manufacturers' SSD based on 96-layer 3D NAND will be launched in 2019 to grab chances.

Besides, in order to increase storage density, NAND Flash manufacturers are trying to develop 96-layer QLC from 64 layers together with higher production yield. Single particle storage capacity will reach 1TB, so SSD prices will further decline, then SSD market penetration will increase.

Start with 240GB
As average SSD capacity will increase in 2019, new host will be above 240GB/250GB/256GB even with standard 480GB in the second half year. Especially with more QLC and 96-layer SSD getting into market, prices will continue to fall.
Meanwhile, demand growth is limited due to laptop and smart phone market are already saturated, which results in slight excess of NAND Flash supply and smaller gap between 480GB SSD and QTB HDD. SSD cost performance will be further increased, so user will choose faster SSD while HDD may go backward if not moving forward.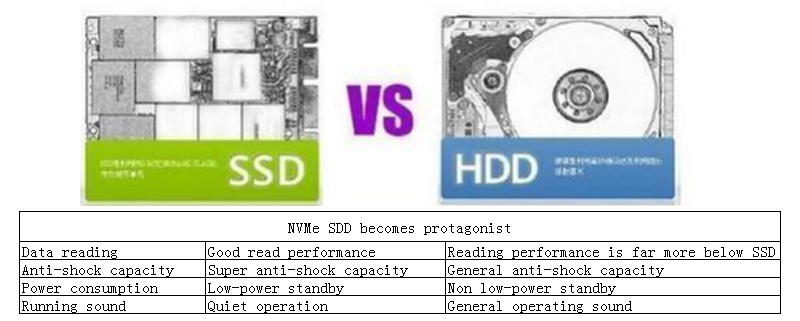 Hard disk with SATA interface are used in recent years, then PCI-E are popular but its cost performance isn't very high. NVMe SSD has been a first choice now, whose price is close to SATA SSD with a quadruple performance. With such a high cost performance, NVMe SSD proportion will be higher.
There are two aspects accelerate market application of NVMe SSD. Firstly, SSD control chip of master manufacturers such as Marvell, Silicon Motion, Phison fully support PCIe. What's more, YEESTOR, Maxio, ASolid and Silicon Integrated Systems strengthen PCIe support, among whom Phison launches PS5016-E16 which firstly supports PCIe Gen4x4 NVMe SSD control chip. It accelerates market application of NVMe SSD.
Secondly, original SSD brands, such as Samsung and Toshiba, together with other brands including Seagate, Kingston, Liteon, Plextone, Transcend, A-Data, launch their NVMe SSD products one after another. It accelerates layout of NVMe SSD products together with new host equipped standard M.2 interface, NVMe SSD will be a protagonist.

Summary:
All in all, consumer HDD shipments will continue to shrink in 2019, as 500G SSD price is close to 1TB HDD.
SSD price reduction is largely depend on QLC in the future. Specifically, although QLC has been shipped, its price are not cheap, so TLC SSD is still first choice. QLC is not considerable until its price falls below 60% of present.