In 2009, many industries began down and out, which is extremely evident in IT technology industry such as smart phones, PC and smart televisions, then affect the upstream industry. Particularly in the global semiconductor market, it has been very "bleak" since 2019, especially in DRAM and NAND flash. The consecutive gloom of DRAM and NAND flash further affects the price of SSD. Nowadays, SSD is very cheap. It is reported from international market data that 1GB SSD just need $0.2 which is reasonable. Do you want to buy one?

SSD continues to be gloomy, the price is reasonable.

It was reported by TrendForce that the supply exceeds the need. SSD suppliers have been caught in a price war, leading to a fall in the price of SSD for PC OEM manufacturers. TrendForce also forecasts that the price of 512GB and 1TB SSD will drop to a record low of $0.1/GB in the end of 2019. That means SSD price will continue to fall. However, due to the smaller price gap between PCle and SARA SSD, faster PCle interface will be popular.




To identify the price of SSD is cheap, we search the related quotation in the Internet. The data indicates that many 500 GB SSD hard disk e-commerce prices are only over $70, even 1000 GB SSD is around $100, the price has dropped to the "freezing point". In 2017 the price of 256GB TLC SSD is about $100. It is a good opportunity to buy SSD PCle with interface in end of this year for most PC users like game players, design graphics and AI data calculation platforms.

According to market law, the product price is relative to market relation between supply and demand. The dropping price of SSD is directly affected by the market falling demand for DRAM and NAND flash and indirectly by other factors, such as oversupply, weak demand for terminal products of servers and smartphones, release of 3D NAND capacity and so on.

3D NAND takes over the flash memory market

3D NAND flash is an initial flash memory developed by Intel and Micron, which solves the limitations of 2D or flat NAND flash memory by stacking memory particles together. The development of 3D NAND make flash memory density be higher to reduce its cost and improve production efficiency. With the expansion of the production scale of 3D NAND, the increase of production capacity and the improvement of the 4th generation 64-layer and 5th generation 72-layer 3D NAND technology, the demand for NAND Flash exceeds the demand.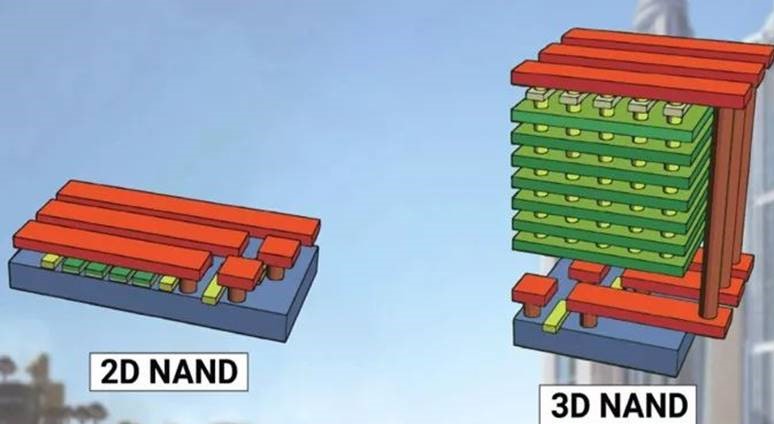 At present, 3D NAND flash suppliers mainly are Samsung, SK Hynix, Toshiba and Micron. At the same time, some Chinese enterprises make achievements in 3D NAND development. In fact, it is a challenge and opportunity for storage module factory when facing price falling in NAND Flash market. But technology innovation will make outdated SSD price continuous falling. Samsung has said that the number of 3D NAND stacks layer will reach to 500 in the next five years and 1000 in 10 years.

At present, 4 NAND flash generally compose SSD hard disks. If 3D NAND flash becomes to 500 or even 1000 layer, which means the one die capacity may even to 2TB. At that time, ordinary SSD will be phased out. By 2020, with the development of 5G and Internet technology, big data will increase explosively. The greater demand for storage and capacity 3D NAND flash will revolutionize the SSD market.

The end demand is weak and SSD supply exceeds demand.

According to DRAMeXchange, NAND Flash industry obviously oversupply in 2019, PC OEM SSD prices plummeted for SSD manufacturers fighting a price war. Because the average price of the mainstream SSD contract has fallen by more than 50% since its peak in 2017, and the NB SSD carrying rate has broken through the 50% for the first time in 2018. Chen Xuwei, associate director of DRAMeXchange, points out that the SSD carrying rate is expected to be 60-65% in 2019, which also indicates that the SSD market space is much less than before.

In addition, SSD falling price is mainly due to overall low demand for smart phones, tablet computer and service, of which the flash memory have same production origin with SSD.

The data just from smart phones shows that the same period shipment of smart phones is lower than 2018 or 2017. The number is 459 million in 2017 and 2018 is 408 million. According to the latest research by Counterpoint Market Pulse Market Monitoring Services, shipments of smartphones in China fell by 7% in the first quarter of 2019 compared with the same period last year and 12% in the first quarter of 2019. With the influence of other markets, the NAND Flash market has changed from a shortage of supply to an oversupply of demand.

The PCle SSD permeability is expected to exceeding 50%.

Macroscopically, the reason for the cooling of semiconductor market is very direct. PC, smart phones, server and data center OEM customers tend to be conservative for future sales and have high inventory level, which leads to weak spare momentum and makes the NAND Flash market continue to seriously oversupply.

It is undoubted that many users tend to choose SSD with higher speed for its falling price.

From the second quarter average contract price, at present, price difference between Premium level PCIe SSD and SATA SSD are less than 6% while that between Value level PCIe SSD and SATA SSD are close to zero. It can be predicted that by the end of the year, the market penetration of PCIe SSD is expected to exceed 50%. By that time, it will replace SATA SSD to become the mainstream of the market.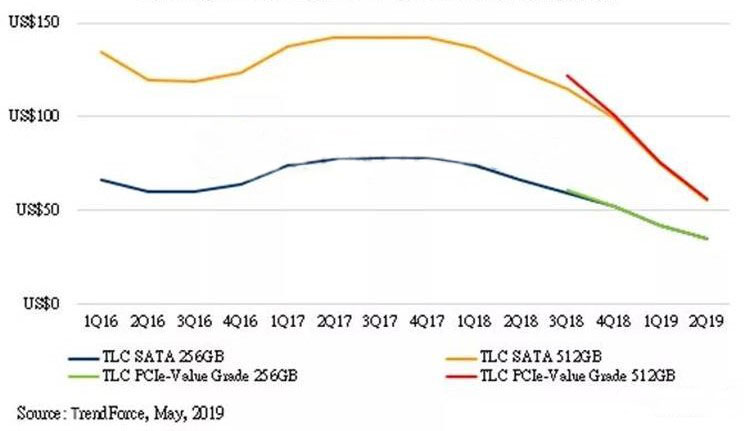 Honestly, the AI war improved processor performance, and the demise of mining brought graphics card prices back on track, but this led to a decline in SSD prices. Which meant that PC players could get better performance and experience well with less money.

Extended Reading: Guide for SSD Purchase

SSD with fast reading and writing and evident faster computer operation speed is very popular. But the relatively expensive price has become the threshold for many DIY users to choose and buy. For those planning to buy SSD, they still need to do enough homework.

Firstly, looking interface type. There are many types of SSD interface.We must select SSD according to the computer needs and motherboard interface. The main SSD interface types are SATA interface, M.2 interface and MSATA interface. SATA is the most common interface type and almost all motherboards can support it. However, because the products of SATA interface mainly implement SATA standard, there are obvious limitations on reading and writing speed.

M.2 interface, which is native to the motherboard, is quite common in notebooks. According to the different protocols, M.2 interface can be divided into SATA standard, PCIE standard and NVMe standard. The read and write speed of NVMe SSD is much higher than the former. These products are thin in size and can be divided into 2230,.2242, 2260 and 2280 according to their length. They are named after mm in length and width.

Next, looking brands and particles. At present, there are many brands of SSD drives on the market. In a few years, SSD drives have produced numerous brands, but few brands can meet the needs of consumers. Generally speaking, we can choose a big brand. As for particles, the solid-state hard disk uses NADA flash memory particles. At present, there are three types: MLC multi-layer unit, TLC three-layer unit and SLC single-layer unit. SLC is better than MLC, MLC is better than TLC, and TLC is better than the latest QLC.

Despite its high technical threshold, solid-state hard disk has a simple structure, which is mainly composed of host, PCB and Flash particles. Among them, the cost of flash memory particles is the highest, which causes small brands to choose cheap white and black particles in order to reduce the purchase cost of flash memory particles. If your computer often stores important data, it is recommended that you buy a solid-state hard disk manufacturer with the ability to produce flash particles independently when buying a solid-state hard disk.

Then, looking 4K random writing and reading speed.We know that the speed of continuous reading and writing is the speed of continuous reading and writing a file. When copying large files, the advantage is most obvious. If large files are not copied frequently, no matter what the speed of continuous reading and writing is, there is no big difference. Random read-write speed or 4K read-write speed is different, because when reading files on disk, it is usually random. For example, when reading and writing records, 4K random read-write speed is to read or write random data, which can reflect the real performance of SSD solid-state hard disk.

Lastly, demand should be equal to capacity. It is right that the larger the capacity of SSD is better. But if you use more SSD, it's a waste. After all, SSD is relatively expensive, but less is troublesome. Therefore, before choosing and purchasing, we should make clear our storage requirements. For example, if you just want to install the system, 120 GB is enough. If you want to use it as a storage disk, it usually starts at 250GB. Of course, if you want to store a large number of movies or games, at least 1 TB, but the price is more expensive.
Related Articles:
The price of NAND Flash suffering big fall drives the ...