103ZB data can't be stored and storage technology needs to be innovated.
103ZB data can't be stored and storage technology needs to be innovated.
Firstly, it was be reported that the amount of data generated globally was 32ZB and it will achieve to 103ZB,according to a series of data. How much data has been stored among them.
There is also a series of data, which shows the amount of stored data was 5ZB in 2018 accounting for less than 16%. It is estimated that the saved data in 2019 will be 12ZB accounting for 12%, which means that there will be more and more data that can't be stored. Some people think data is like oil and gold that can't be saved. What a shame.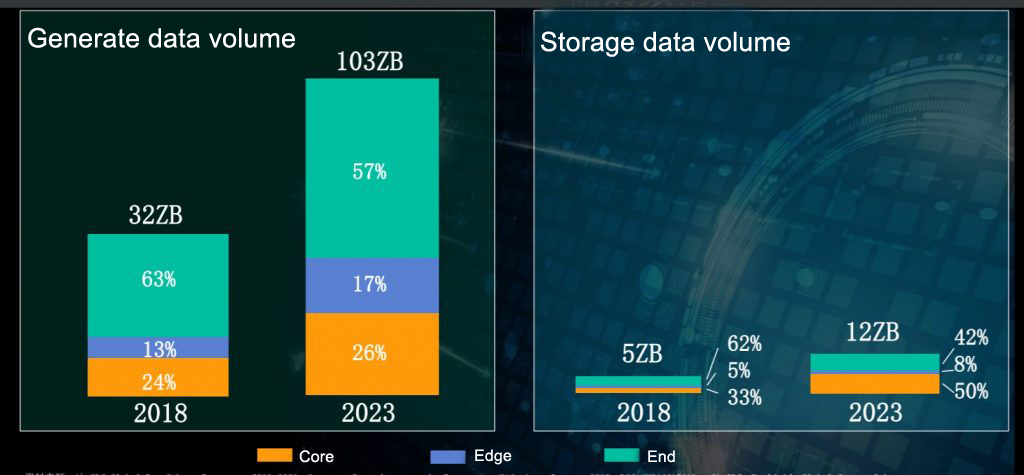 The reason is that the storage ability can't catch up with the need of data growth.

It is estimated that SSD and high-capacity enterprise HDD will still keep rapidly growing. Even so, does the gap still tend to widen.
What should we do?
We still need technology to solve the storage problem. Both SSD and traditional HDD are still striving to pure the storage of higher capacity and reduce the cost of GB/$. SMR HDD and SSD of QLC particle are the products with the lowest cost, which is the reflection of the latest technology. But SMR and QLC are meeting the problem of write limitation, which limits the popularization of product technology.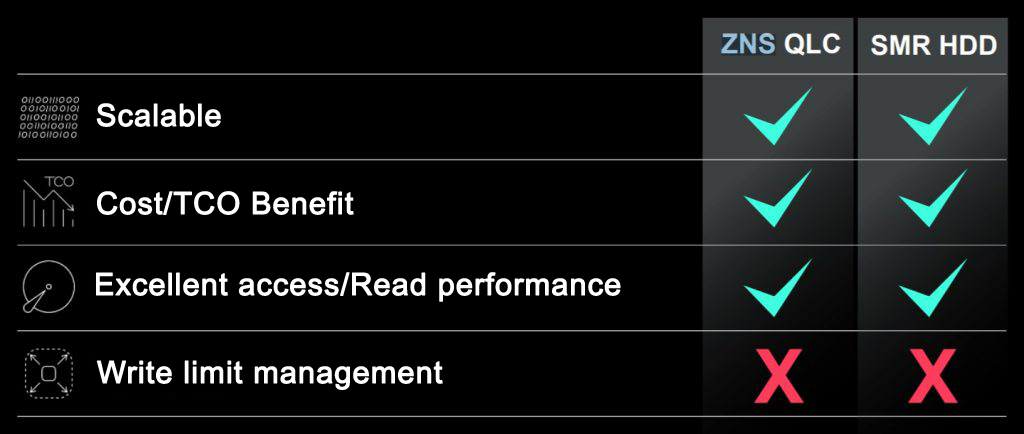 When writing data, we need move the overlapping data like SMR HDD, which needs the support of operation system and application software. At present, the latest operation system has already had the ability to support SMR. But various operation systems of low version and the limitation of application software still limit the usage of SMR.
The problem with QLC is that PE is too low. From SLC, eMLC, MLC, TLC to QLC, PE declines from 50,000 to 100,000, 10,000, 3,000 to 5,000, 1,000 to 150 times. The decline of data write lifetime makes QLC only suitable for read-type applications and not suitable for frequent rewriting.
WD has also made some efforts to improving the PE to 1000 times which has been similar to TCL. At present, this is the status of hardware manufacturing, how to maximize the value of science and technology.
We need the assistance of software.
Therefore, WD recommends that we need the storage with new structure to welcome the ZB time. Meanwhile, WD has also released ZoneStorage for technology.
Simply speaking, this is a set of techniques for storing resource namespace partitions. WD not only released the shared library and developed tools to support the design of file system and kernel modules, but also opened source for them.
At present, the ZoneStorage of WD has already get the support from SUSE、ATTO、Microchip、Broadcom and other partners. WD believe 2019 is the first year of ZoneStorage technique.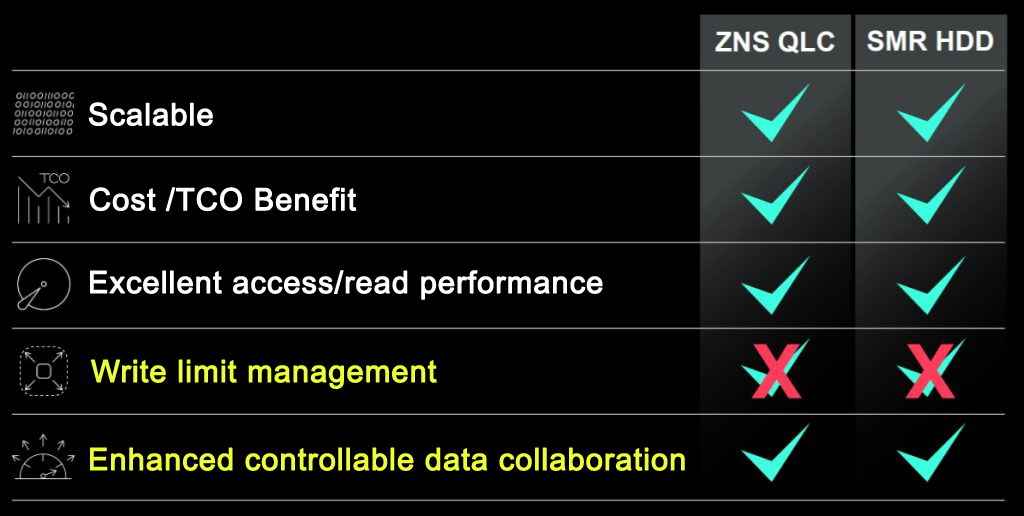 Will the breakthrough of write limitation bring breakthrough to the market of QLC and SMR HDD.

For users, especially some internet manufacturers like JBAT, will they support and use ZoneStorage technique opening source. We still need to wait and see.

ZNS and ZBC should noted that ZoneStorage technology is for all QLC SSD and SMR HDD manufacturers and opening users.
Will the technological direction work? Let's wait and see.

The senior testimony:
Zhu Haixiang is Vice President of Product Marketing Department of WD Corporation, said one of the characteristics of ZB era is data explosion in the theme speech of ODCC 2019.
Zhu said one of the characteristics of ZB era is data explosion. It is estimated that the total amount of data in 2023 will reach to 103ZB. The rapid growth will bring many challenges to large cloud data center and bring opportunity to storage industry. How to deal with the data with explosive growth has become a high-profile issue. It is a general trend to innovate the storage architecture of data center in an economical and efficient way. The ZoneStorage architecture realizes the intelligent collaboration of data storage and placement process between host and underlying storage media through enabling application layer. It can not only enjoy the maximum dividend of hard disk storage capacity brought by SMR technology, but also have better durability, predictable low latency and quality of service performance in the deployment process of NVMe SSD products incorporating ZNS standard.