32GB single memory will be available soon, 16GB × 2 dual-channel will become mainstream configuration
32GB single memory will be available soon, 16GB × 2 dual-channel will become mainstream configuration
According to the IT House's news at this year's Taipei Computer Show on June 5th, ADATA showed the latest 32GB single DDR4 memory, the frequency is 2666MHz, it is likely that the memory used Micron 16Gb particles.
According to the report, to build a 32 GB UDIMM, module manufacturers need 16 Gb IC. Since Micron is starting to increase its 16 Gb DDR4 memory chip production, there will be two high-capacity DDR4 DRAM suppliers (Samsung and Micron) later this year.
Micron has not officially launched its 16 Gb DDR4 memory chip yet, but ASRock demonstrated Micron's 32 GB DDR4 module at Computex this year, confirming that Micron is providing customers and partners with samples of their new chips and modules. ADATA just happened to be one of Micron's largest customers. ADATA also showed off their new 32 GB UDIMMs. Although they did not officially announce the use of Micron's chips, they confirmed that they did not Samsung chips.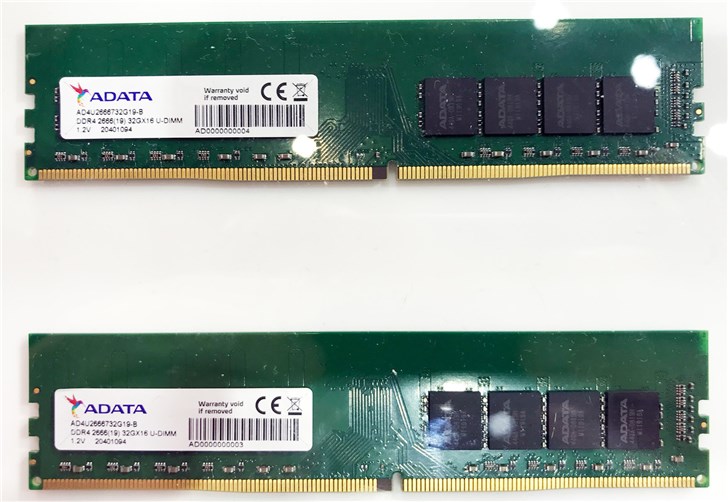 According to IT House's news on June 6th, with Micron and Samsung launching their16 Gb DDR4 DRAM chips, JEDEC also officially certified its 32 GB single memory, and ADATA also showed its own single 32GB memory products on Computex 2019. The foreign media expects that the 32GB single memory will be launched massively in 2H-2019/2020, and the mainstream configuration on the market will be upgraded from 8GB*2 to 16*2.
ADATA's AD4U2666732GX16 is a 32-gigabyte dual-row unbuffered DIMM made with Micron Technology's 16 Gb chips. These modules use the JEDEC standard DDR4-2666 speed with a module voltage of 1.2 volts. ADATA has not disclosed the official release time yet.
The 16 Gb DRAM chip is fabricated in Micron's advanced (3rd generation) 10 nanometer silicon fabrication process to achieve the desired transistor density. With the launch of AMD's third-generation Ryzen "Matisse" and Intel's "Ice Lake-S" desktop processors, it is expected to be available in 2H-2019/2020. Memory manufacturers are also expected to introduce a fast and highly compatible single 16 GB DIMM that uses 16 Gb chips, which will eventually make 32 GB dual channel a mainstream memory configuration.
Nowadays, the price of memory is almost half of last year's price. The cost to upgrad a set of 16GB*2 will not be much different from that of uppgrading last year's 8GB*2.