About SSD transmission protocol: the difference between AHCI and NVMe
There are two most popular transmission protocols for SSD (Solid State Drive). One is the AHCI protocol and the other is the NVMe protocol.
AHCI, called Serial ATA Advanced Host Interface/Advanced Host Controller Interface, is an interface standard developed by several companies under the direction of Intel and allows the storage drivers to enable advanced Serial ATA functions. 
When using SATA SSD, we must open AHCI mode in the motherboard settings.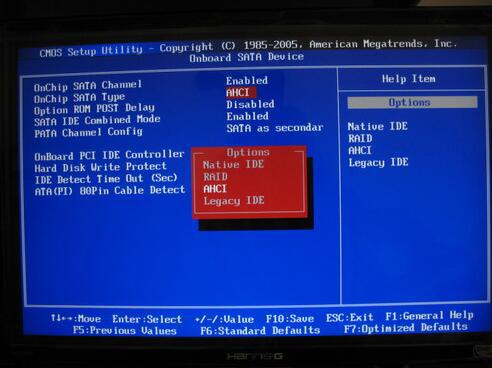 This is because, when the AHCI mode is turned on, the number of useless seeks and the data lookup time of the SSD can be greatly narrowed down, thus the SSD under multi-tasking exerting all the performance and effects. According to the relevant performance test, after the AHCI mode is turned on, the SSD reading and writing performance increases by about 30%.
Another transmission protocol is the NVMe protocol which represents the future performance trend. 
The so-called NVMe protocol is a nonvolatile memory-based transport specification, customized by a working group of more than 90 companies, including Intel as the main leader,  Micron, Dell, Samsung, Marvell, NetAPP, EMC, and IDT, etc..
The purpose of this specification is to make full use of the low latency and parallelism of PCI-E channels, as well as the parallelism of contemporary processors, platforms and applications. Under the controllable storage cost, it can greatly improve the read-write performance of SSD, reduce the high latency brought by AHCI interface, and completely liberate the ultimate performance of SSD in SATA era.
In other words, starting with the transmission protocol, the NVMe protocol was born to further enhance the actual reading and writing performance of SSDs and improve product transmission efficiency.
In general, the SSD based on the NVMe protocol far exceeds the 6 Gbps limit of the SATA interface in terms of reading and writing performance, close to 1000 MB/S. 
In addition, the interfaces of SSD that supports the NVMe protocol are almost all M.2 interfaces, using the PCI-E channel. That is to say, all SSDs based on the SATA interface cannot support the NVMe protocol transmission protocol, and cannot enjoy the ultimate performance brought by the new agreement.