The Speed classes Class 2, Class 4, Class 6, Class 10, UHS-I, UHS-II, V60, V90 of SD and difference of the SD latest UHS-III, A2, and LVS standard
Speed classes Class 2, Class 4, Class 6, Class 10, UHS-I, UHS-II, V60, V90 of SD, which were published by the SD Association, were all defined for the lowest sequential speed, and there was no provision for random reading and writing of IOPS.
SD Speed Level Standards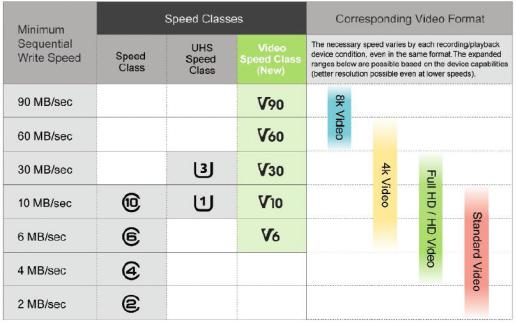 Speed class support by SD interface and capture bandwidth
To enable mobile device users to easily identify SD cards whether is suitable for APP, the SD Association announced new system standards. A1 Classification (APP Performance A1) is defined based on the Secure Digital 5.1 specification, and A2 standard is a supplement to the SD6/0 standard specification to ensure that users can use App with Micro SD cards in excellent performance.
Among them, the SD card with A1 classification authentication can achieve 10 MB/s continuous reading and writing speed, or guarantee 1500 IOPS random reading efficiency and 500 IOPS random writing efficiency; Getting an A2 identification needs memory card to achieve 4000 IOPS random reading speed and 2000 IOPS writing speed. Meeting this standard will be able to support Adobe Storage function of Android very well, and run APPs smoothly, in other words, microSD card can be used as internal space of mobile phone.
The A1 and A2 standards of SD

SD Association said it will introduce a more advanced standard of app performance according to the need of market in the future.
In addition, the new UHS-III bus speed of the SD 6.0 specification can reach 624 MB/s (full duplex); it is mainly aimed at satisfying the demand of high-speed storage for SLR cameras and some hand-held devices, such as shooting 4K@120Hz high-speed video. UHS-I provides the bus speed of 104MB/s, and the bus speed of UHS-II is 312MB/s.
The UHS standard of SD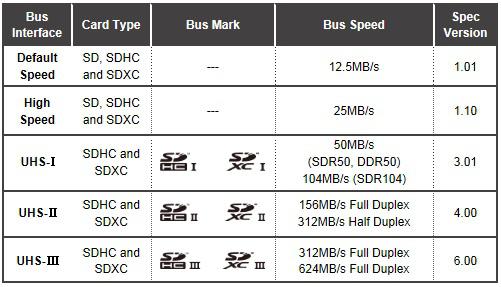 Low signal voltage of LVS standard is for people in special circumstances to use, because the new standard requires the SD card voltage to be reduced to 1.8V; the current voltage of SD card is generally around 3.3V.