What is the value of an ASML lithography machine at price of $100 million? (3)
High-end lithography machines completely rely on imports.
 At present, the leader in the field of lithography machine is ASML in Netherlands, which has occupied up to 80% of the market share and monopolized the high-end lithography market. Nikon in Japan was completely defeated by ASML on high-end lithography machines, even if Nikon's ARF lithography machine sells for less than half of the price of ASML. The lithography machines used to process 14/16nm chips for Intel, TSMC and Samsung are brought from ASML. In addition, those lithography machines of wafer factories such as GlobalFoundries, UMC and SMI are mainly from ASML.
 More importantly, the most advanced EUV lithography machines can only be produced by ASML in the world. Two EUV lithography machines sold by ASML in the third and fourth quarters of this year are more than $100 million. The average price of ARF lithography machines which lag behind EUV generation is also between 40 million and 50 million euros. According to the high price quoted and only one company having the ability to sell EUV lithography machine in the world, we can see that the technical threshold of the lithography machine is extremely high, and that lithography machine is the product of human wisdom.
 In contrast, Chinese lithography manufacturers appear very weak. Among the lithography machines produced by Shanghai Microelectronics Equipment Co., Ltd., which owns the leading technology, the lithography machines used to process 90-nm chips have the best performance. The gap in technology is too large. Therefore, the Chinese wafer factories are dependent on importing high-end lithography machines. For example, this ASML lithography machine, which was airlifted from the Netherlands to Xiamen, is a high-end lithography machine used for chip manufacturing. As this import is declared by a company in Xiamen, the author speculates that this equipment is likely to be purchased by a wafer factory jointed by Xiamen local government and UMC. However, due to the restrictions of the Wassenaar Agreement, China can only buy ASML's low and medium products, which can be seen from the price quoted by local enterprises in Xiamen for imported lithography machines with only $15 million.
 As we all know, equipment is the source of information industry. First, we develop equipment. Secondly, equipment is used to manufacture chips. Thirdly, chips are component of device. Finally, devices change the world!
What is a lithography machine that is equivalent to Boeing 737?
 In chip manufacturing, the leading equipment is lithography machine, and the leader in the field of lithography machine is ASML! At present, ASML has become synonymous with lithography machine.
 What does ASML do? Produce and sale lithography machines!
 What is lithography machine used for? Print chips! (Chips are considered as industrial oil)
ASML is a company and lithography machine is a device. ASML has three major customers: Samsung, Intel and TSMC.


There is an unconventional quote in the semiconductor industry: The technical level of ASML represents the global semiconductor process.
 ASML, headquartered in Veldhoven, Netherlands, ranks second in per capita research funding in Europe.
 In ASML's Q4 quarterly report for 2015, ArF Immersion was sold 11 units, with sales of 881 million euros multiplied by 72% (excluding solution revenue). The average price per unit was 58 million euros, or about $73 million.
 The price of Boeing 737 quoted by official website is between $70 million and $90 million. Surprisingly, airlines still have discounts on purchases (about 3-4 discounts)!
The following figure is a sketch of NXE 3350B EUV lithography machine produced by ASML to subverting era. The unit price is more than $90 million. Even if you want to buy it, wait patiently.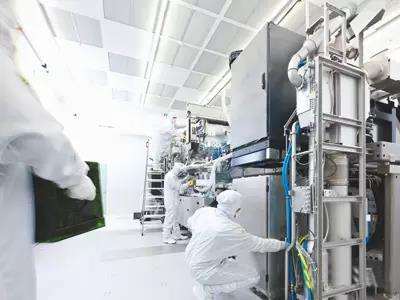 High-end lithography machines for etching the most sophisticated chips are produced by only one company, ASML. Some of middle-end lithography machines are made by Canon and Nikon in Japan. That's right. They are good manufacturer of cameras. There are some similarities in technology of camera and lithography machine. In spite of accumulation of strong technology and dominance in the camera industry, Canon and Nikon can only produce low or middle-end lithography machine. So you can imagine how outstanding for ASML to produce high-end products. The most expensive product is EUV lithography machine, costing about $100 million, which is equivalent to F35, the fourth generation fighter of American Empire.
The machine looks like as the following figure.