As memory prices will keep falling in 2019, Samsung, SK Hynix and Micron reduce their capacity to stop it dropping.
After two years rising memory prices begin to drop in Q4 of 2018. DRAM contract price decreases by 10% compared with last quarter. Some memory products are cutting prices recently, for example, some 16GB memory is only $73, while 8GB DDR4 memory price used to be $146 at the end of 2017. Memory prices will keep falling due to the weakness of PC, server and smart phone in 2019, but Samsung, SK Hynix and Micron cut their capacity to prevent prices reduction, as it is unexpected.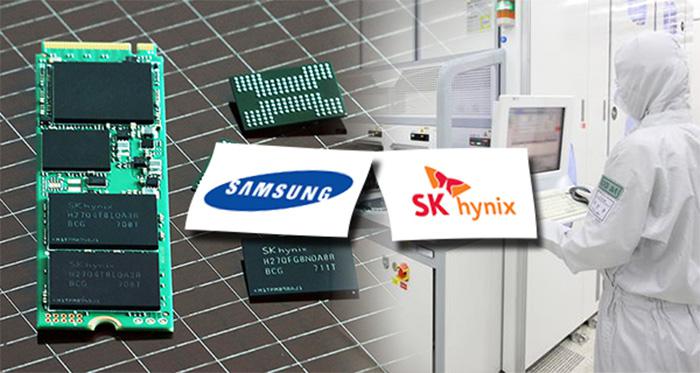 2019 DRAM market research report released by DRAMeXchange of TrendForce is as follow:
Accroding to latest survey from DRAMeXchange, demand of terminal products such as PC, server and smart phone is weak after a sharp correction of DRAM contract price in the fourth quarter of 2018 which is about 10% of the previous quarter. As a result, major DRAM suppiliers slow down their new capacity to prevent the falling trend.
Capital expenditure plan of major suppliers has the most relevant indexes of actual bit production according to DRAMeXchange. However, the total 2019 DRAM capital expenditure in production is about $18 billion with 10% reduction, which is the most conservative investment level.

Two Korean company firstly announce slowing down pace of 2019 investment plan. The 2019 DRAM investment of Samsung, who takes largest market shares, is about $8 billion in total, which is mainly used in continuously turning into advanced process(1Ynm) and developing of new products. Chip production is the most conservative one for last three years, so expanding plan of Pyeongtaek(Line 18) is terminated by resolution, which makes a worst performance of bit growth which is 20% in 2019.
SK Hynix with second market shares only invests $5.5 billion in DRAM in 2019, which is mainly used to continuously turing into new process and increasing yeild. However, whole year capacity will still have 30-40k growth by the newly built factory in Wuxi China. Bit growth of SK Hynix in 2019 will still increase by 21% which is slightly higher than Samsung according to DRAMeXchange.
Micron with third market shares anounced marking down its 2019 capital expenditure to $3 billion few days ago, together with decreasing 2019 bit growth from 20% to 15%, in order to improve condition of rising inventory. All factory of Micron semiconductor including Rexchip Electronics(Taiwan Micron Memory), Inotera(Taiwan Micron Wafer Technology) and original Elpida Hiroshima Plant don't have expanding plan. 2019 chip production will be maintained at 350K per month and bit growth will be only contributed from 1Ynm continuously turning in.
According to DRAMeXchange, Micron is weaker than the other two Korean companies in cost structure, so it have a stronger reaction because of less tolerance against continuous price reduction. Micron's market shares is compressed by 15% bit growth of last two years.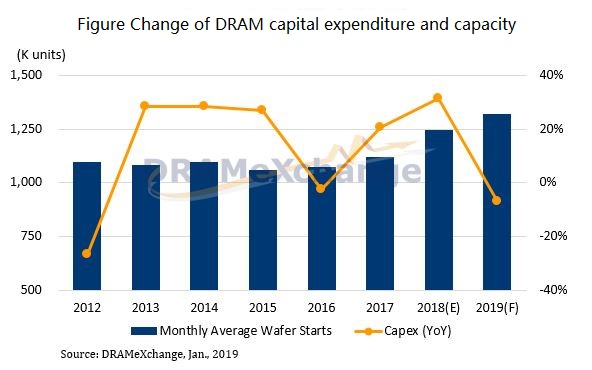 Supppliers slow down new capacity pace to avoid price war so as to maintain profits
It can be seen from operation trend of three companies marking down 2019 capital expenditure that suppliers avoid price war by adapting capacity due to lack of competitors in oligopolistic market. DRAM gross margin of Samsung and SK Hynix is close to eight in ten, and Micron also accounts for six in ten in earnings. So that suppliers make a sonservative outlook of 2019 is reasonable, as they are still profitable.

There will be a weakest demand in the first quarter of 2019 due to effect of vacation and off season, what's more, there is no sign of rising demand after the second quarter. On condition of Sino-US trade friction there are still many uncertainties in the market. DRAM prices will be corrected quarter by quarter according to the prediction. The first quarter of 2019 will mark down about 15% and the second quarter will be lower than 10%. If there isn't substantial improvement in damand, prices will maintain 5% decline in each quarter.