In the second half of the year, 7nm EUV process is mass produced by Samsung who will promote 3nm GAA process in 2021.
Recently, Samsung has released Q4 quarterly earnings guidance for 2018, showing that Samsung's earnings will fall sharply by 9% and 38.5%, compared with both a year and a month earlier. The main reason for the collapse in earnings is the downturn in smartphone business of Samsung, as well as the memory chip price reduction, which will continue until the first half of this year. In order to compensate for the impact of memory chip price reduction cycle, Samsung has already begun to strengthen its OEM business. Catching up with TSMC requires Samsung to compete with the latter in the production time of advanced technology. According to Samsung executives, they plan to produce 7nm EUV process in the second half of this year, and more advanced 3nm GAA process in 2021.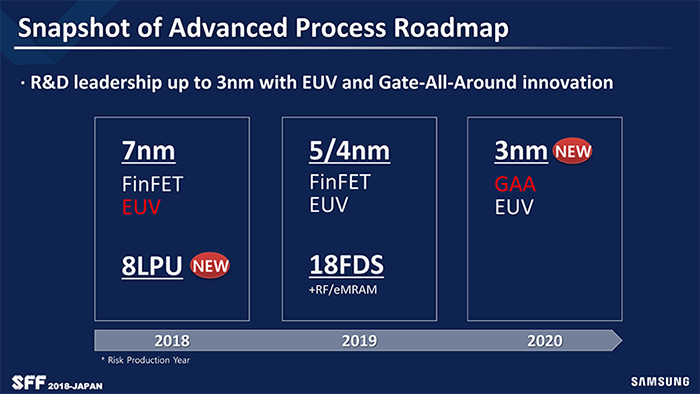 According to Tomshardware, Ryan Sanghyun Lee, vice president of Samsung wafer foundry business market announced that Samsung has been developing GAA (Gate-All-Around) technology since 2002, and that GAA technology can significantly enhance transistor performance with MBCFET (Multi-Bridge-Channel FET) by using nano-chip devices.
He said Samsung will produce 3nm GAA process in 2021.
At the end of last year, Samsung published it would produce 4nm GAA process in 2020. Industry observers, such as Samuel Wang, vice president of Garner, have doubts about mass production of GAA technology before 2022, but he now thinks Samsung seems to put GAA chips into production sooner than expected.
However, Samsung doesn't seem to have a unified statement about when the 3nm GAA process will be mass produced. Head of Samsung wafer OEM business, Eun Seung Jung, said at the IEDM conference last December that Samsung has completed the performance verification of 3nm process technology and is further improving the process, targeting at mass production in 2020.
Whether 3nm GAA process is mass produced in 2020 or 2021 is still a little far away. This year, Samsung is mainly promoting 7nm EUV process. It is expected to be mass produced in the second half of this year, although Samsung announced last year that 7nm EUV process was capable of mass production. In fact, the mass production mentioned before is only a risk trial, far from achieving it, and mass production at the end of this year is possible.
In terms of 7nm EUV process, TSMC also previously announced mass production this year. It seems that Samsung has no advantage in progress. However, Samsung has developed retical inspection tool by itself in 7nm EUV process, while other companies do not have similar commercial tools.