Intel shows its brand new Sunny Cove architecture and 3D logic chip packaging technology
On the activity of "Architecture Day" held by Intel on December 12th, a next generation of technology was shown by executives, architectures academicians of Intel. There was a series of technologies which were being developed including the next generation of "Sunny Cove" architecture, which was based on 10nm PC, data center and network system, with function of artificial intelligence and cryptographic acceleration, and the world's first 3D logic chip packaging technology.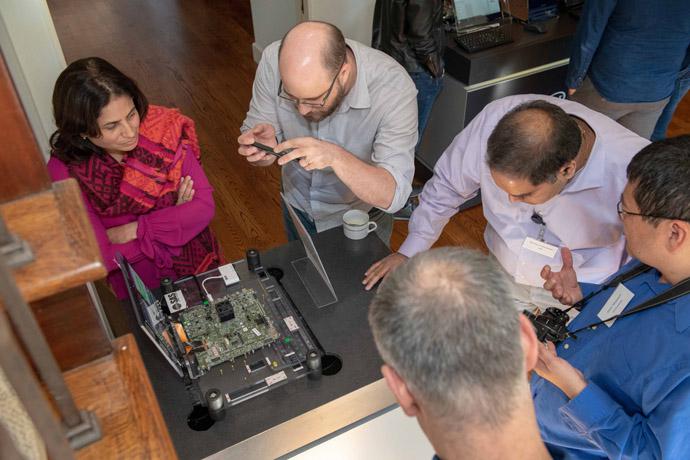 Sunny Cove is the next generation of Intel CPU Microarchitecture, which is only a symbol of Microarchitecture. Hopefully it will be the processor of Ice Lake combined with Gen 11 core graphics card. Sunny Cove Microarchitecture will increase the IPC of single thread and decrease its power consumption. It is very different from the processor based on Skylake architecture. Microarchitecture is enhanced in many aspects, such as it has more parallel execution, new algorithms with lower delay, larger key buffer and cache, what's more, it can optimize data-centric workload, being added by Vector-AES and SHA-NI instruction sets which accelerates most encryption algorithms.
     Sunny Cove architecture which can reduce delay and increase handling capacity with a higher parallelism computation is hopeful to improve the application experience from game and media to data-centric. Sunny Cove will be the next generation of Xeon and Core processor infrastructure later next year. 
    The Gen 11 core graphics card comes out at the same time. It carries 64 lists of EU units, which is double than 24 lists of Gen 9 core graphics card. Its floating point arithmetic exceeds 1TFLOPS with a great promotion in game performance and support of adaptive vertical synchronization. Compared with the current core graphics card, Gen 11 is nearly double than a popular application for identifying photos with industry leading media encoder and decoder which supports 4K video streaming and 8K content creation.
    It is reiterated that the Intel discrete graphics won't be launched until 2020.
    It is as important as the new Microarchitecture that the brand new 3D packaging technology called as "Foveros" by Intel, which introduces the 3D stacking for the first time with an advantage of realizing the logic chips' stacking.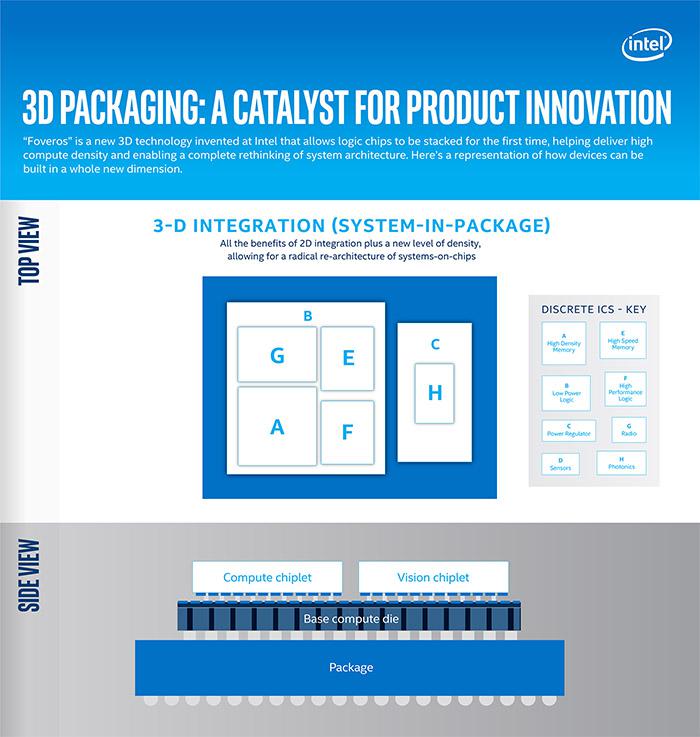 Foveros paves the road for integrating high performance, high capacity and low-power dissipation of silicon devices. Foveros is hopeful to expand chip stacking from passive intermediate interconnection layer and stacking storage chip to high-performance logic chip, such as CPU, graph and artificial intelligence processor.
    The technology offers a great flexibility for designers to "mix and match" different patented modules and various memory chips as well as I/O configuration in new product modality. It makes products fall into smaller "chips combination", among whom the I/O, SRAM and power supply circuit and be integrated in basic chip with high-performance logic "chips combination" stacking on the top.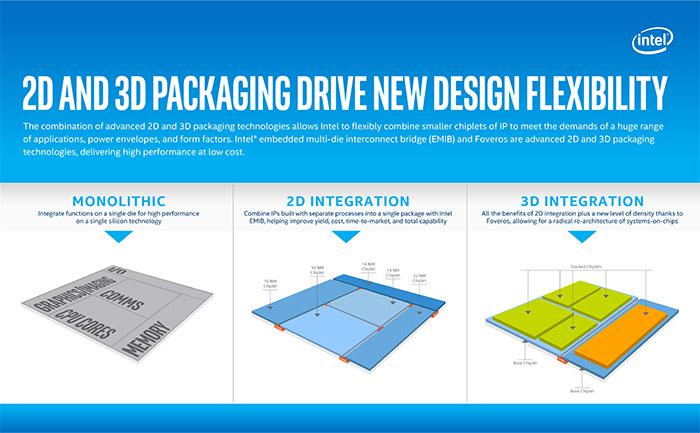 Intel is predicted to launch a series of products with Foveros technology from the second half of 2019. Fisrt Foveros product will combine high-performance 10nm calculation stacking
"
chips combination
"
 and 
low-power
dissipation
 22FFL basic chip. It will show a world class performance and power efficiency in small product modality.
    Foveros will be a technical leap after breakthrough EMIB 2D packaging technology introduced by Intel in 2018.