Korean media: Korean companies have accounted for 75% of the global DRAM memory chip market share
China is energetically developing the semiconductor industry currently. Although the Chinese market consumes more than one-third of the world's semiconductor chips, most of them rely on imports, of which almost 100% of DRAM memory and NAND flash chips are imported. Semiconductor powers such as the United States and Japan are not comparable to Korea in the field of memory chips and Samsung and SK Hynix occupy an important position in DRAM and NAND. Especially in DRAM memory chips, Korean media reported that Korean companies had accounted for 75% of the global DRAM market share in the Q3 quarter.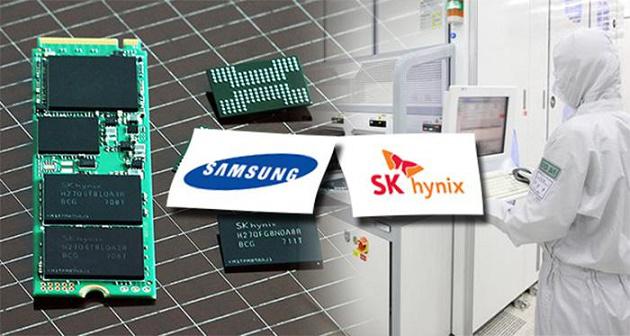 Pulsenews recently quoted data from DRAMeXchange as saying that up to September this year, Korean companies ha
d
a share of
74.6%
in
the global DRAM memory chip market, of which Samsung
is
accounting for 45.5%, SK Hynix
is
accounting for 29.1% and Meguiar, the third largest company in the market,
is
accounting for 21.1%.
Korean companies have such a high share in the global DRAM market that the Chinese market depends heavily on the supply of Korean DRAM chips. The Korean Yonhap News Agency quoted the data released by the Korea International Trade Association and the Korea Trade and Investment Promotion Agency (KOTRA) earlier that China imported a total of 88.6 billion dollars of memory chips in 2017, an increase of 38.8% year-on-year, of which 52.2% was imported from South Korea, 22.2% from Taiwan, and 6.5% of imported memory chips in Japan.
Industry observers indicated that China will still depend heavily on Samsung Electronics, SK Hynix and other Korean memory chip companies because they stay ahead of Chinese companies in technology and capacity.
The technology that Chinese companies are using now was used by Korean companies a few years ago. For example, the chip technology developed by JHICC is still 22nm, which Samsung has used it from 2011 to 2015.
KOTRA indicated that China's demand for memory chips has risen sharply, but due to capacity constraints, Korea is still expected to be the largest supplier. However, KOTRA added that as Beijing strives to cultivate domestic chip manufacturers, including the large-scale investment and construction, Chinese companies are likely to narrow the gap with Samsung and SK Hynix.