Micron financial report shows sales and profit rate is lower than expected:the share price decreased by 7.1% in after-hours trading
21th September, Beijing mean time, because the sales and profit rate given by senior executive is lower than market expectation, the high share price of chipmaker Micron technology began to fall in after-hours trading on Thursday.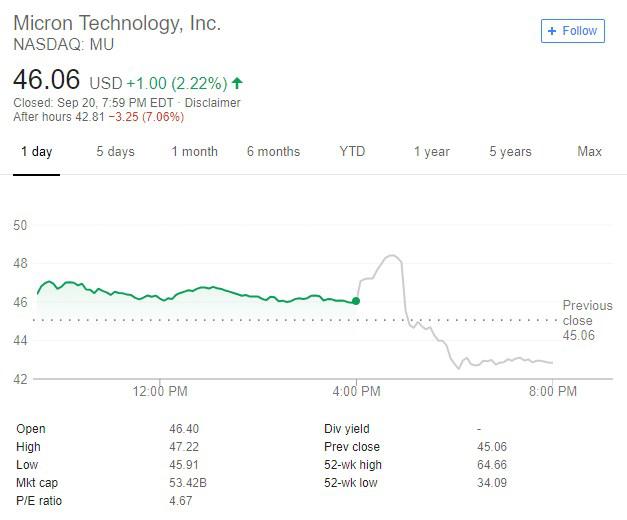 Micron technology points out that the gross margin of the first fiscal quarter is between 57% and 60%, and the revenue is between $7.9 billion and $8.3 billion. But according to the information from Thomson Reuters I/B/E/S, analysts forecast that micron's revenue of the first fiscal quarter is $8.4 billion and the gross margin is not less than 59.6%.
    The stock fell 7.1 percent to $42.79 in after-hours trading.
    CFO David Zinsner said the expected decline in revenue was partly due to the shortage of CPU chips, which were used on personal and laptop computers.
    "This is obviously an important reason for us to give this guidance." Zinsner said on the conference call. " I don't know how long the CPU shortage will last. "
    Several other tech companies, including dell, also pointed out the impact of CPU shortages on revenue projections. Intel is a major supplier of such chips, but the company hasn't responded to Micron's comments yet.
 In the earlier time on Thursday, Micron's stock increased 7.1 percent to $47 in after-hours trading. The revenue and profit of the fourth fiscal quarter reported by this company exceeded analysts' expectations, mainly because of the demand of memory chips from data centers and smartphones.
    Micron's NAND and DRAM chips are mainly used in smartphones and servers. Since the end of 2016, micron has been benefiting from the prosperity in the global memory chip industry, mainly due to the prosperity of smartphone industry and the shift of many companies to the cloud.
    However, because the oversupply may bring the industry supercycle to an end, which make many investors keep watching, they are keeping a close eye on the price movement of NAND and DRAM chips.
    Samsung electronics, the world's largest supplier of memory chips and main rival for micron, may cut production of memory chips to keep supplies tight and prices high, Bloomberg reported on Thursday. Samsung did not comment on