Micron has released its new NAND product 1300 TCL SSD recently without announcing the price. There are two types of interface, including M.2 and SATA.
What can we do to make capacity of SSD larger now? In addition to using QLC particles, you can increase the number of stacked layers of NAND Flash. At present, most of the products on the market are 64-layer 3D TLC NAND Flash, but in 2019, many manufacturers began to introduce 96-layer 3D TLC NAND products, such as Toshiba 96-layer 3D TLC NAND BG4 series M.2 SSD, and Samsung fourth generation 96-layer V-NAND 970 EVO Plus M.2 SSD. Micron now has 96-layer 3D TLC NAND 1300 series SSD, including two types of interface, M.2 or SATA. Both of them provide capacity of 256GB to 2TB.
By the way, don't get excited about the M.2 interface because it's still a SATA channel. Therefore, its continuous reading and writing speeds are up to 530MB/s and 520MB/s, which is quite depressing.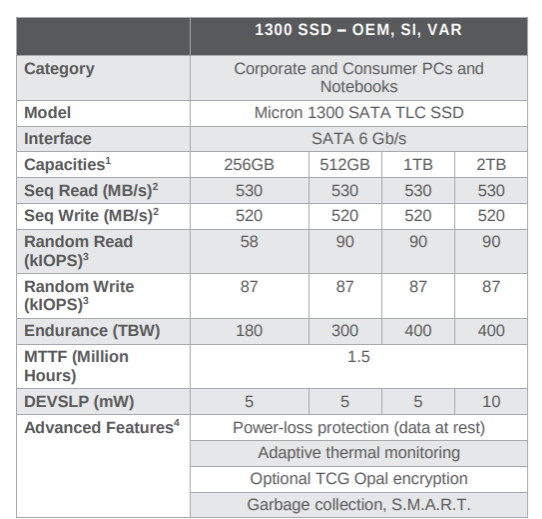 Micron 1300 series SSD provides capacity of 256GB, 512GB, 1TB and 2TB. The 2TB version is not available for M.2 due to size.

The only advantage of SATA SSD may be large capacity and low cost. It's not a big problem for SSD cost at $0.15 per GB. Micron also hopes that more consumers can transit from HDD to SSD in an all-round way, and reversely consumers can get a better speed experience.
Maybe the only thing you are interested in is the price of Micron 1300 series SSD. After all, SATA SSD is the most cost-effective one. Unfortunately, Micron has not announced the price yet.