SamsungPlans$115.8 Billion War Chest to Compete with TSMC for the World's Largest Foundry(2)
However, the good times didn't last long. After 2014, owing to Samsung's own problems such as low wafer yield and TSMC's technological advantage, Apple's A-series chips orders was back in the hands of TSMC again.
In 2017, Samsung Electronics spun off into a foundry business division, making a heavy investment in it and allowing it to develop independently. At that time, Samsung has determined to let the company's independent wafer foundry division compete head-on with TSMC, which focused on foundry only. Samsung's business strategy was also very radical, that is, to snatch up customers simply by price undercutting.

The KRW 133 trillion investments Samsung announced this year would be used to strengthen its competitiveness in System LSI and Foundry businesses, it reported. The investments will be composed of two main parts: KRW 73 trillion for domestic R&D and KRW 60 trillion for production infrastructure.
Samsung said the investment plan is expected to help the company to reach its goal of becoming the world leader in not only memory semiconductors but also logic chips by 2030. By the end of 2018, Samsung Electronics has had five main foundry production lines, including four 12-inch production lines and one 8-inch production line.
Overall, both Samsung's and TSMC's revenue in 2019 is decreasing because of decline in market demand, but owing to the former's aggressive strategy, the latter's market share has slightly declined. Now TSMC occupies 49.2% of market share, down from 50.8% at the end of 2018. But generally speaking, TSMC has been maintaining more than 50% of market share over the last few years. At present, there is still a great gap in scale and capacity between Samsung and TSMC.

TSMC ready for Samsung's challenge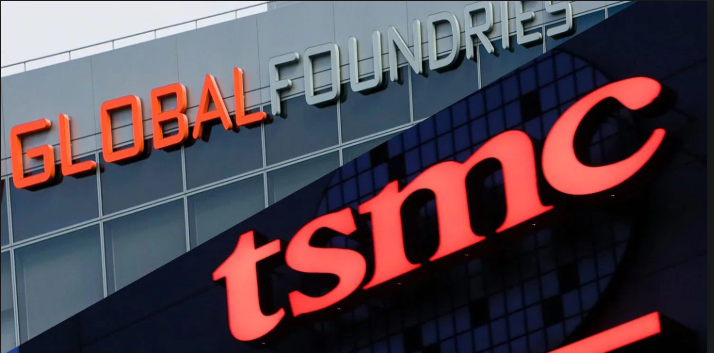 The competition between Samsung and TSMC is still continuing. TSMC has begun the mass production of 7nm with extreme ultraviolet (EUV) ahead of Samsung. It predicts that 6nm and 5nm will hit mass production next year, with 3nm production on schedule. In TSMC's first quarter 2019 earnings conference on April 28, the company announced that 3nm technology has been in full-scale development.
According to the plan announced by Samsung, the company intends to allocate budget for its 7nm production using EUV lithograph in the second half of 2018, with 5nm, below 5nm, and other advanced process technologies on schedule. In terms of latest yield of process, TSMC still trumps Samsung.
There are two important turning points in TSMC's history. One is its 12-inch 0.13-micron process technology. TSMC managed to develop it successfully, and thanks to it, the company beat out its rival UMC and reached a whole new level, said one former insider of TSMC to the journalist.
The other is 28nm process technology, by which TSMC surpassed other companies and became the industry leader. Back then, there was controversy about two competing approaches to 28nm HKMG process: gate-first approach and gate-last approach. At first, TSMC focused on the development of gate-first process, but soon the company found its problems and thus turned to gate-last. When the industry learned this, TSMC's was once challenged and disapproved, but it turned out that gate-last was the right approach to focus on.
Besides, TSMC is also working on expanding its businesses. TrendForce's analyst Chen told the journalist, " TSMC has the greatest capacity in wafer foundry industry, of which product lines almost cover most of the products and does not confine itself to logic chips. Furthermore, the company proposes to continue delving into the field of similar chips in the future. The new 8-inch fab built in Nanco is an example." In December 2018, C. C. Wei, CEO of TSMC, disclosed plans to build a new 8-inch wafer fab beside the site of its 6-inch fab in Tainan to satisfy robust customer demand for specialty process technology. This will be another new 8-inch fab after the one build in 2003 in Shanghai Sungkiang.

When it comes to TSMC's competition with Samsung in wafer foundry industry, Chen said, "Since UMC and Global Foundries abandoned the market for advanced process technology, it has been difficult for TSMC to deal with such a big industry on its own. Therefore, for TSMC, the advantages of the existence of Samsung in foundry industry certainly outweigh the disadvantages. In the future, the majority of profits from advanced process technologies will all go to these two leaders."
As for Samsung's snatching Qualcomm's orders from TSMC, even if Qualcomm has shifted some orders to Samsung, TSMCs still has a great number of Qualcomm's orders, so it will not bring great impact on the company. TSMC is fully confident in its technologies prowess and capacity adjustment, said an insider of TSMC.
Chen believed that the customers of advanced process foundry mainly require high-performance chips that are used in smart phones and computers. If Samsung really wins Qualcomm's order, it will not be a small blow to TSMC indeed, but it will also sway other customers to favor TSMC more easily.
As a matter of fact, geographically, TSMC and Samsung are both located in the subduction zone of technology in Asia, thus facing relatively small regional markets. If TSMC and Taiwan is the technical valve of global semiconductor industry, then Samsung and South Korea is another valve for Asia, right in the middle between the two big markets: China and the United States. In the long run, the battle between Samsung and TSMC will definitely influence the order in the new semiconductor industry.
Related Articles: