Let's take a look at the global market for all flash arrays (AFAs) in 2018.
Let's take a look at the global market for all flash arrays (AFAs) in 2018.
Through Gartner's historical data, we can know about market share of sales revenue of each vendor from 2015 to 2018.
Solid-State Array Vendor Market Share Percentage

Although its market share has declined dramatically in 2017, Dell EMC still ranks first. NetApp, which boomed in 2016 and overtook IBM to take second place in 2017, ranks second now. In short, EMC accounts for the largest market, followed by NetApp. This SSA pattern is the same as universal storage.
The gap among Pure Storage, IBM and HPE is not obvious, so their ranking in the future depends on their market performance. However, from the picture above, they are in decline.
Huawei, one of the members of SSA, has recently risen rapidly, especially since Dorado V3 listed during 2017 to 2018. It has now surpassed Hitachi Vantara and been TOP 6. However, Hitachi Vantara's growth is also rapid.
In summary, in terms of overall trends, NetApp, Huawei and Hitachi Vantara have been developing late, but their potential is large, thanks to increasing market share in the past two years. 
Pure Storage has developed early and its sales are growing. Because whole SSA market is growing, actual influence of Pure is weakening.
From the perspective of share percentage, SSA will exceed hybrid and HDD storage from 2019 to 2020.

As we can see, the whole SSA market is similar to universal storage market. The only difference is an additional Pure Storage.
It's stated that TOP7 SSA vendors accounted for 94% of market share of SSA in 2018, compared with only 90% in 2015. After excluding Pure, the other six ECB storage giants accounted for 83.1% of SSA share, compared with 76.5% in 2015.
That is to say, SSA market is still dominated by traditional vendors. New vendors may lose the chance to subvert SSA market.
Startup companies suffer a lot. Their entrepreneurship with SSA Storage has basically come to an end.
Fortunately, as technology continues to move forward, there will be some new developments in NVMe-oF.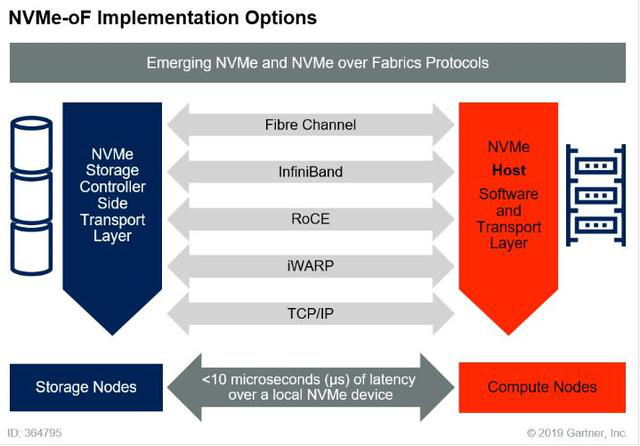 Some companies such as Vast Data can take advantage of these new technologies to abandon second storage market and seize flash market. All-flash-arrays startup Vast Data has gained financing of 80m, vowing to eliminate hard drives and second storage. However, I think the war of flash storage for primary storage is over.
Therefore, Gartner recently announced that SSA will no longer be an independent market. Since the first Magic Quadrant was released in 2014, it has ended its historical mission in only five years.
Gartner will release a new Magic Quadrant for Primary Storage this year, which is designed for current SSA market and universal disk arrays market. Therefore, the following five reports will not be available in the future.

However, it's said that although Magic Quadrant of SSA is gone, its product critical capabilities are independently evaluated. On the contrary, reports about independent high-end storage critical capabilities will no longer emerge.
As for the critical capability assessment of primary storage, Gartner has defined scenarios at present:
Mission-critical workloads such as IBM Db2, Oracle, Microsoft SQL, SAP HANA, Microsoft Exchange and SharePoint
Virtual server and virtual desktop infrastructures
In-house-developed transactional applications
Now the biggest problem is exiting in block-based SDS. Gartner has never had an independent Magic Quadrant, and does not know which research field it belongs to. Distributed files, distributed objects, and HCI have Magic Quadrants, while distributed blocks are not yet available.
I believe that distributed blocks will gradually replace traditional primary storage. In the future, most of primary storage will also evolve into distributed storage. One day, Gartner will pay attention to doing research and launching Magic Quadrant distributed blocks. Believe it or not, let's wait and see!