Top 15 Semiconductor Sales Leaders: Samsung ranks top 1 and storage suppliers have the lion's share
NAND flash and DRAM, who are on behalf of memory chips, have changed global semiconductor pattern in last two years. Samsung replaces Intel to be the number one who keeps it for 25 years. Revenue of other memory suppliers has a large increase and their global rankings keep rising. Although DRAM chip's prices drop this year, memory chip makers' full-year performance still has a rapid growth with slight falling in Q4. According to 2018F Top 15 Semiconductor Sales Leaders released by IC Insights earlier, Samsung ranks at the top with a $83.258 billion revenue, Intel is in close second and SK Hynix replaces TSMC to be third, because memory chips suppliers has a surge in earnings, their overall performance is better than other manufacturers.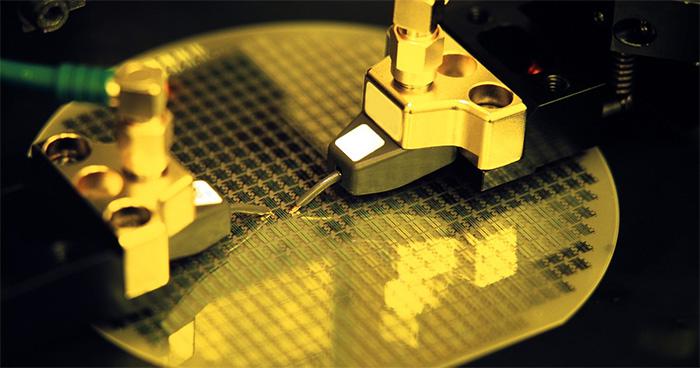 Top 15 Semiconductor Sales Leaders of IC Insights is focus on the sales figures of major manufacturers without classifying, among whom are self-marketing IDM model semiconductor factories, Intel for example, TSMC, which is pure-play foundry, and companies have no wafer such as Qualcomm and NVIDIA. Thus, some revenue numbers are double counting. But the largest semiconductor in the whole industry can be seen from the ranking.
    According to IC Insights' data, it is expected that total revenue of top 15 semiconductor sales leaders in 2018 will reach $381.16 billion, with a 18% year-on-year growth.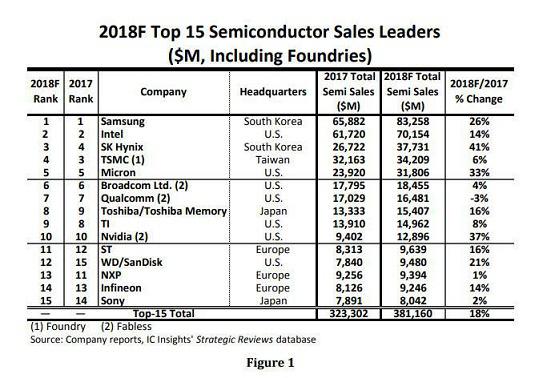 Specifically, Samsung
'
s revenue will reach $83.258 billion this year with a 26% year-on-year growth, who consolidates top one of global semiconductor companies.
    Intel's revenue in 2018 also reach $70.154 billion, with a 14% year-on-year growth. However, there is a expanding gap between Intel and Samsung. It is hopeless for Intel to become the number one of semiconductor, which lasting 25 years, unless it's memory chips business rapidly expanding.
    The third-ranking of last year, TSMC is overtaken by SK Hynix, revenue of the latter reaches $37.73 billion, with a 41% surge, which is the fastest among TOP15 companies. While the revenue of TSMC is $34.21 billion, with a 6% year-on-year growth.
    Micron remains fifth but its revenue is up to $31.8 billion from $23.9 billion of last year, which sharply increases by 33%. The sixth, seventh are Broadcom and Revenue Growth Rank. However both of their revenue growth rank isn't in a good condition. Broadcom increases by 4% this year, and Broadcom decrease by 3%, the only one falls among TOP15 companies.

    Toshiba's revenue reaches $15.41 billion, with a 16% year-on-year increase, who overtakes TI to be the eighth. And TI increases by 8%, ranking ninth.
    NVIDIA is the tenth having no change. But its revenue reaches $12.9 billion, increasing by 37% than last year. The increasing speed is after SK Hynix, meanwhile, NVIDIA doesn't specialize in memory chips so it has a better performance at this point.
    Western Digital and SanDisk have the most increase among TOP15 rankings, their revenue of 2018 reaches $9.48 billion, with a 21% year-on-year growth.
    In general, manufacturers in memory chips area are the winner among TOP15 rankings this year, and their revenue growth rate has a wider margin than other industries(except for NVIDIA). It is not an exaggeration of NAND chip manufacturers' gains. DRAM manufacturers have highest growth, such as SK Hynix, Micron. Samsung's 26% growth doesn't look high, but it is related with the structure of Samsung's memory chips. It's gains will exceed 30% or over if only calculating DRAM chips.