Toshiba's Power Outage and Japan's Sanctions to South Korea-The Global Price of Memory and Flash Memory Chips Maybe Pick Up
When flash memory makers around the world are cutting capacity to alleviate price declines , the five flash fabs of Toshiba and West Digital in Japan suffered outage on June 15.Although some plants resumed production after a five-day shutdown, Fab 2, Fab 3 and Fab 4 did not return to work. Toshiba said it would not fully resume production until mid-July.


The outage lasted just 13 minutes, but that is enough to change the flash market. According to Toshiba's prediction, the factory will shut down for up to a month, which has a big impact on Toshiba's capacity. As for partner Western Digital, their loss is 6 exabytes of flash memory which is equivalent to 12 million 500GB hard drives gone counted by mainstream 500GB SSD hard disk. Given that Toshiba has more capacity than Westinghouse, Toshiba's losses are much larger than that of Western Digital.
You might wonder why the power went out for a few minutes causing so much damage. Semiconductor manufacturing plants have their peculiarities operating 24 hours a day. After encountering an accident, it will not resume production immediately when the outage restoring. The level of equipment damage needs to be checked in order to ensure that the wafers on the production line are not affected, because the damaged wafer will affect the quality of the chip and a large number of wafers will be scrapped in serious cases.
For example, TSMC scrapped 100, 000 wafers earlier this year, equivalent to a month's capacity, and lost $550m. In 2010, a power outage at Toshiba lasted just 0.07 seconds, but it led to the all production of Toshiba's fabs halt, which reducing production by 10-20 per cent and driving up global chip prices.
The outage happened on June 15th may become a symbolic event that reverses the trend of flash prices in 2019.
DRAMExchange thinks flash prices will rise in the short term. In particular the price of 2D flash will rise in 3Q quarter of this year, because much of the lost capacity was 2D flash memory in this power outage. Although 2D flash memory is not the mainstream flash memory, the price of 3D flash memory will also be affected. The decline is bound to narrow while Q3 quarter's price is unlikely to reverse.
In addition, Micron also announced in the earnings conference a few days ago that expanded NAND flash production cuts to 10% from 5% previously. The supply of NAND flash market will be significantly reduced under the dual impact of supply cuts and Toshiba/Western Digital power outage. This event changes the global NAND flash supply and demand situation, so the price of flash chips in Q3 is expected to partly increase (mainly 2D flash).
Japan's Sanctions to South Korea

The power failure has not been solved, but the flash and memory markets may be in trouble again. This is a surprise move by Japan to sanction South Korea with its semiconductor technology. From July 4, Japan will restrict the export of semiconductor materials and OLED display panel materials to South Korea.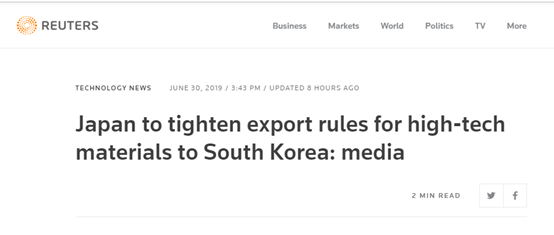 Materials Japan limit exports to Korea mainly has three categories, which respectively is Fluorine Polyimide used in television and mobile phones of OLED panel, the core material photoresist in semiconductor manufacturing and high purity Eatching Gas.
It is reported that Japan has basically monopolized the global Fluorine Polyimide and hydrogen fluoride materials market, accounting for 90% and 70% of the global share respectively.
The sanctions against South Korea will directly affect the major pillar products of Korean, semiconductor and panel, because these two industries are inseparable from semiconductor materials yielded by Japanese company. Japan's move will undoubtedly hit South Korea's economy hard, with Samsung, LG, SK Hynix and other giants bearing the brunt, as well as influence some of their big customers, such as apple, Google, SONY, HUAWEI, OPPO, VIVO and so on.
As for the sanctions, the South Korean government expressed regret over Japan's decision and accused Japan of violating WTO rules, so they would prosecute Japan.
But until the two sides resolve the issue, the question for South Korean companies is whether, and to what extent, their production will be affected without semiconductor materials from Japanese manufacturers. Now SK Hynix said its inventory is less than three months and will stop production in the future if there is not enough material supply. Samsung has not issued a report and is assessing the impact.
Considering that Samsung and SK Hynix account for about 70% of memory and 50% of flash memory in the world, it is not good news for the memory chip market. If Japan and South Korea do not resolve the dispute, the memory and flash production of South Korean manufacturers will inevitably be affected and then make  impact in world markets, resulting in the global price of memory and flash memory chips pick up.
Related Articles: