Samsung Mass Produce World's First New 250GB SATA Solid-State Drive with 136-Layer NAND Flash
Samsung announced on August 6th that it mass produced the world's first new 250GB SATA solid-state drive (SSD), integrating the company's 6th-generation 256Gb 3-bit V-NAND with 136 layers.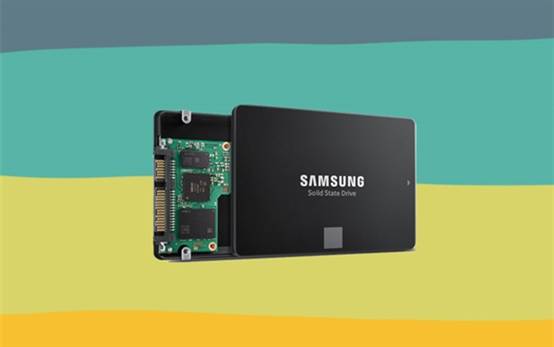 According to Samsung, its sixth generation V-NAND (3bit, or TLC) chip, based on a 136-layer NAND flash with a single die of 256GB (32GB), went into mass production in June. In the same time, SSDS based on the NAND chip went into mass production in July.
Samsung said that the new 6th-generation V-NAND chip with136 layer had about 40% more cells than the previous 90-layer stack single-stack structure by channel-hole etching technology. But as the stack height of each cell increases, NAND flash chips are more prone to generate errors and read delays. In order to overcome this limitation, Samsung reengineered the circuit to achieve the fastest data transmission speeds of below 450 microseconds (μs) for write operations and below 45μs for reads. Samsung says the new V-NAND chips have improved performance by 10%, reduced power consumption by 15% and increased production efficiency by 20% compared with the previous generation chip.
Owing to speed optimization design, Samsung express that it provide next-generation V-NAND solutions with over 300 layers just by mounting three of the current stacks without compromising chip performance or reliability.

As far as the timeline of Samsung V-NAND iterations is concerned, it is not difficult to find that it takes less four months for Samsung to update 6th generation V-NAND from 5th generation V-NAND than the previous product upgrade. That shows Samsung's strong research and development capability in the storage field.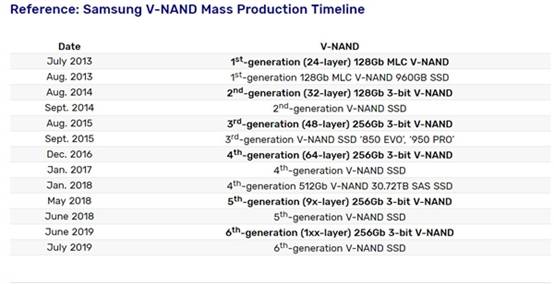 Kye Hyun Kyung, executive vice President of product and development for Samsung electronics solutions, said that Samsung is able to timely rollout storage products with significantly improved the speed and energy efficiency by applying cutting-edge 3D storage technology to mass production.
However, it should be noted that SSDs based on the latest 6th-generation 256Gb 3bit NAND are currently only available to OEM channels. Besides, it will take some time before they are available in the consumer market.
Only the 970 EVO Plus is available in the consumer market among Samsung products using the 5th-generation V-NAND (96-layer TLC). It is also the previous consumer TLC performance leader. Samsung's own products have always insisted on using its own controller and NAND. Apart from the slightly more expensive price, it has always been the leader in the industry in terms of product performance and quality. Samsung 970 Pro is one of the few retail MLC products currently available, which shows at least they haven't given up on continuing to ship MLC products to the consumer market.
Toshiba has just announced the launch of RD500 & RC500 for the consumer market using 96-layer TLC NAND flash not long ago. 96-layer NAND flash will also slowly become mainstream products in the consumer level market. However, with the maturity of QLC, maybe TLC will be gradually replaced like SLC and MLC particles experienced in the future. It may be a long time before the 100-layer TLC reaches the consumer market.
Related Articles:
SK hynix announces: the world's first 128-layer 4D NAND is going to ...