Prevent being fooled in photography: How many "tricks" does a memory card have in the hands of a merchant?(1)
Do you remember how you chose the memory card in your current camera? Is it recommended by the merchant or purchased by yourself with reference to the information?
I think any photography enthusiast will be confused by the technical terms and parameters on the camera memory card, and the demand for the capacity and speed in the format you choose to record. But don't worry. In the next few minutes, you'll learn about memory card selection references that many professional photographers don't know about.
The select range of camera memory cards available today is truly daunting, even for professionals. New products seem to emerge every once in a while, claiming to be better or faster than competitors. But this is a minefield for careless photography.
It seems to be a common phenomenon to buy inappropriate camera memory cards. In this article, we will explore the range of formats available to help you understand
the meaning of all terms, and ultimately find formats, capacities and speeds that suit your photographic needs.
About some normality:
At present, many new cameras usually use the store card attached by the merchant, but usually the capacity is very limited, and it is a low-end model. So you probably need an extra memory card.
To choose a camera memory card correctly, we need to understand several basic elements
Format
Speed
Capacity
Price
Which card format?
No one will choose the format of the camera memory card before buying the camera that fits it. So it's more likely that you already have your camera. Before reading the rest of this article, please check the user's manual of your camera to see what format your camera needs. Alternatively, when the camera is turned off, just open the memory card cover of the camera and remove the memory card to find one of the following formats.
SD (Secure Digital)
SD card is the earliest version, and its shape and size are also the most common so far. The shape is adopted by subsequent SD formats, but the capacity of the format is limited to 2 GB.

SDHC (Secure Digital High Capacity)
This is a common SD camera memory card, but the maximum capacity is 32 GB. They are in the same shape and size as SD format, but they use different file systems.

SDXC (Secure Digital 'Xtra Capacity')
SDXC is a standard released only in 2009, and its capacity can reach 2TB. It is worth mentioning that this type of memory card can achieve the transmission speed of 300M/S, which we call "high-speed card".

Micro SDHC
This can be said to be the same as the basically obsolete Micro SD format (with a maximum capacity of 2 GB), but the capacity range has increased from 4 GB to 32 GB. In the picture, there are these common small cards and adapters for SD card reader.


Micro SDXC
Similarly, it is the same as most outdated Micro SD formats and Micros SDHC, but has a capacity range of more than 32GB. Similarly, this card format is usually sold with SD adapters.
xD (eXtreme Digital) Picture
This is the FujiFilm format, which can be found on some older Fuji and Olympus cameras. And its maximum capacity is only 2GB.

Memory Stick Duo
Introduced by Sony, this format is compatible with SD camera memory cards.

CF(CompactFlash)
The CompactFlash format has been on the market since the early days of digital photography. It used to represent the best speed and capacity, but has been replaced by new memory card formats, especially SDHC and SDXC formats, as well as new CFast 2.0 and XQD formats.

CFast 2.0 standard
CFast 2.0 is significantly faster than the CompactFlash standard on which it is based. The format used by camera manufacturers is slow, so some cameras should offer dual slots, one for CompactFlash and one for the new CFast 2.0 format.

XQD
Like the CFast 2.0 format, XQD is the latest development in the CompactFlash standard.
Eye-fi Mobi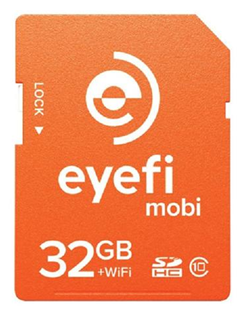 Since 2010, these camera memory cards have been compatible with most digital cameras and are a unique variant of the SD format. They replace Eye-fi X2, which cannot support Eye-fi X2 due to security vulnerabilities.
These cards have built-in WiFi. So when you take photos, they can be automatically sent to any device running the Eye-fi applications, such as your computer, tablet computer or mobile phone, through the available WiFi network. And photos can even be sent directly to Eye-fi 's own cloud-based photo hosting service.
Devices running Eye-fi applications can detect the presence of Eye-fi cards nearby and send them to devices whenever new photos are taken. It can be configured to leave photos on your memory card and send them to your device, basically as a backup facility, or you can automatically delete photos from your camera after they are sent, which means your Eye-fi card will never fill up!
An alternative to Eye-fi Mobi is a slightly cheaper Transcend WiFi SDHC card, which has the added advantage of turning your mobile device into an external display through its shooting and viewing mode. But its transmission range is not as large as that of Eye-fi.
If your camera already contains WiFi, you won't need these WiFi cards because your camera can already send photos to other WiFi-enabled devices.


Related Articles: