TSMC's 7nm capacity is full! The launch of AMD's new product is forced to delay for 2 months
TSMC's 7nm capacity is full! The launch of AMD's new product is forced to delay for 2 months

Abstract: Affected by TSMC's full capacity of 7nm production. The new high-end processor of AMD, Ryzen 9 3950X, which originally was about to launch in September, was delayed to release in November. The pace of AMD's "upgrade" is likely to be affected. TSMC's 5nm layout also released positive news, and it is expected to start mass-produced in Q1 next year, Apple will become the first customer. TSMC also announced the establishment of the world's first 2nm factory. The earliest time for 2nm product to enter the market is 2024.
1. TSMC's 7nm capacity is full, AMD's new product will be "late"
AMD officially announced that its high-end processor Ryzen 9 3950X, which was planned to be launched in September, is scheduled to be launched in November. "Ryzen 9 3950X" is produced by TSMC's 7nm process. The industry believes that AMD's new product will be "late" and is related to the full capacity of TSMC's 7nm capacity, highlighting that TSMC's 7nm supply is in short supply.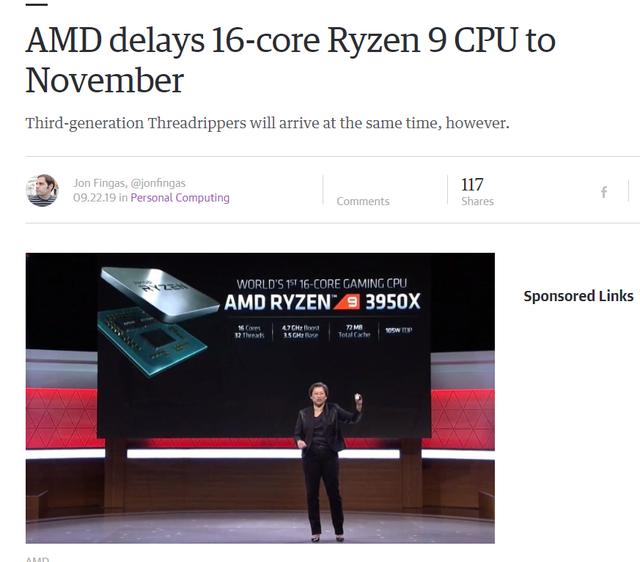 Source: engadget
The pace of AMD's upgrade may be affected. In the past many years, Intel processors had been the first choice for PC players and PC manufacturers. AMD's processors only gain some advantages in the low-end field by its cost effectiveness. This circumstances has not been changed until 2017, when AMD launched the 14nm process (Ryzen) processor.
Since then, AMD has returned to the high-performance CPU market, and its market share of X86 has continued to rise. As of this year, three generations of Acer processors have been introduced, using Global Foundry's 14nm, 12nm and TSMC's 7nm processes. Now that TSMC's 7nm capacity is fully loaded, AMD's processor supply cannot keep up, which may affect the increase in AMD's share.
The published financial report in August of TSMC showed that the consolidated revenue for this month was 106.18 billion Taiwan dollars (about 24.2 billion yuan), an increase of 25.2% compared with the previous month and a 16.5% increase compared with the same period last year. The main reason for TSMC's revenue growth is the 7nm process. Major customers include Apple, AMD, Huawei, Xilinx and Qualcomm. However, the main driving force for this round of growth is Huawei and Apple. The two companies have driven the growth of 7nm orders for the Kirin 990 and A13 processors in the Q3 quarter.

Source: TSMC Financial Report
DigiTimes previously pointed out that due to the strong demand for 7nm process in the market, the demand for TSMC's current 7nm product has been extended from the original 2 months to nearly 6 months.
It is reported that Apple and Huawei's new machines have been released gradually. TSMC is fully engaged in production, which may indirectly crowd out some other customer orders, and related orders will be shipped in succession. In addition, TSMC is not only fully loaded with 7nm and 7nm+ capacity, but even the 16nm and 12nm are fully loaded. Especially after the problems of Samsung's advanced process was released at the end of August, TSMC's orders have surged, and TSMC's profits in Q3 is at record highs.
2, TSMC 5nm was in hot sale, Apple is the major buyer
When the TSMC 7nm capacity was full, the 5nm layout also released positive news. Recently, TSMC Chairman Liu Deyin said at the SEMICON TAIWAN 2019 International Semiconductor Exhibition that TSMC's 5nm will be in mass-produced in 2020. It is scheduled to be mass-produced at the end of the first quarter of next year, and its rapid expansion of production capacity will be record high.
According to the "Economic Daily" report, the main reason TSMC put its 5nm process early to March 2020 is because of the aggressive production capacity fight between of Apple, HiSilicon, AMD, Bitian and Xilinx, which makes TSMC's 5nm capacity become unexpectedly full, this has also enabled TSMC to increase its planned production capacity from 51,000 pieces per month to 70,000 pieces per month, an increase of nearly 40%.
TSMC's first customer of 5nm will most likely to be Apple. According to an industry chain analyst, Apple A13 processor this year continues to be 7nm process, which is not the same as Huawei Kirin 990's 7nm + EUV process. This is to wait for the 2020 TSMC 5nm New Technology. It is reported that TSMC's 5nm process chip size has been reduced by 45%, while performance has increased by about 15%.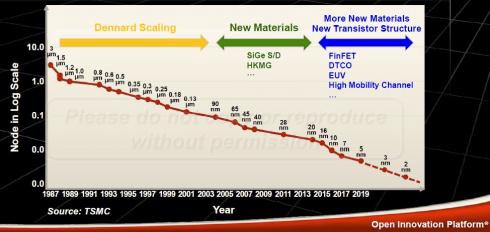 3. TSMC will build the world's first 2nm factory, which will be put into production as soon as possible in 2024.
At the recent Science and Technology Innovation Forum meeting, Huang Hansen, head of R&D of TSMC, announced an important news after discuss the possibility of future semiconductor technology will continue to 0.1nm. TSMC has started 2nm process development. This has made it the first company that announces the start of the 2nm process development.
According to TSMC, the 2nm process development takes 4 years, 2024 is the earliest possible year that it might be possible to enter production. During this time, the 5nm process and even the 3nm process may become transition products for customers to produce chips. For 3nm, TSMC said that the first 3nm plant in Taiwan will be put into production in 2021 and will be mass-produced in 2022.
According to the news, TSMC's 3nm R&D plant is located in Hsinchu, Taiwan. The 3nm R&D plant has successfully passed the EIA and is expected to be mass-produced as planned. At present, TSMC has about 7,000 semiconductor process R&D talents in Hsinchu.
4. Summary
As the chip manufacturing process entered the 7nm level, the entire chip manufacturing market slowly became the "seller market." At present, only TSMC and Samsung can provide 7nm technology in the whole world. From the perspective of terminal products, whether it is Apple, Huawei, Qualcomm, MediaTek in the mobile phone chips industry, or AMD of computer chips, TSMC is always considered as the first choice. Whoever first grabs TSMC's advanced processes will have a key advantage in the success of market competition for chip vendors. In the future, whether it is 5G or AI, the underlying hardware is always chip, TSMC is at the top of the chip manufacturing industry, the long-term optimistic logic is right.